Scuffle after North Korea rejects UN rights report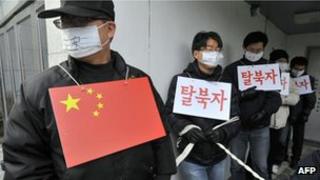 A scuffle has broken out at the United Nations after a North Korean envoy rejected a report critical of the country's human rights.
Pyongyang said the report by special rapporteur on human rights Marzuki Darusman was "fabricated by hostile elements".
As the North Korean delegate So Se-pyong left the meeting of about 500 delegates, a scuffle broke out.
One man was detained and later released by security officials.
The report said that human rights conditions in North Korea ''continued to deteriorate'' from September 2011 to January 2012.
The North Korean representative said Pyongyang ''roundly rejects this useless interpretation'' and reportedly called on the council not to renew the mandate of the special rapporteur, the AFP news agency reports.
A ''group of visiting South Korean lawmakers'' approached him, reported Yonhap news agency, and ''a brief physical clash occurred between the two sides'' as the North's diplomat tried to leave.
The South Korean news agency also said that the delegates from Seoul chanted, "Do not oppress defectors," and "Do not request for China to repatriate (them)".
Harsh repercussions
The issue of North Koreans attempting to flee their homeland through China has become a point of political tension in recent weeks, says the BBC's correspondent in Seoul, Lucy Williamson.
There has been a string of protests in the South over the fate of some 30 North Koreans in China who are reportedly facing deportation and harsh repercussions back home.
Last month South Korea's parliament passed a resolution demanding that China stops the repatriation of the refugees and called on the UN and other international bodies to put pressure on Beijing to follow international law.
Correspondents say reports from inside North Korea say the country's new leader, Kim Jong-un has issued a decree pledging to exterminate the families of anyone caught trying to flee.
Activists and human rights groups say that harsh penalties of prison camps or death have been promised not just to the refugees themselves, but also to three generations of their families.
It is estimated that more than 20,000 North Koreans have fled to the South since the 1950s, the majority of whom escape via China.