Maldives president denounced in the UK by his brother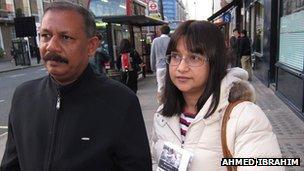 Maldivian President Waheed Hassan is facing opposition from an unlikely campaigner among a small but determined band of protesters in the UK.
His brother Naushad Waheed has accused the former vice president of seizing power in "an illegal coup" in February.
He is so upset over developments that he has taken to the streets of London to distribute anti-government leaflets.
President Waheed assumed power when Mohamed Nasheed stood down amid political turmoil in the country.
Mr Nasheed said shortly afterwards that he was forced to go because he was the victim of an army "mutiny".
His Maldivian Democratic Party (MDP) is now supported by Naushad Waheed who recently withdrew support for his brother in protest over his "immoral and illegal seizure of power".
"He believes that he is serving his country as the leader of a legitimate government, but I do not agree with him," Naushad Waheed told the BBC while protesting against a visit to London by the Maldivian tourism minister.
"The new government I believe is guilty of committing human rights abuses against the opposition."
President Waheed later told the BBC's HARDtalk programme: "I love my brother too but his loyalty is clearly with Mr Nasheed.
"He was appointed by Mr Nasheed so I can understand his sentiments - but he was very far away from the situation here."
In an interview to be broadcast on Thursday, the new president added: "If you come to the Maldives and see for yourself what is happening here you will understand that there are maybe many reasons, many explanations to what happened here, including the fact that President Nasheed just simply lost it and he was unable to control the situation."
Naushad Waheed told the BBC that his anti-government sentiment was not shared by his five other brothers and three sisters, who have all declared their support for the new president.
Nor are his views supported by Tourism Minister Ahmed Adheeb Abdul Gafoor, who was dismissive of protests outside the London hotel where he was promoting his country as a luxury destination.
"He is free to his inclinations," Mr Gafoor said. "The government has made no attempt to silence him or other opposition supporters in the Maldives.
"They are free to protest as much as they like. If we were the evil dictatorship they claim us to be, those protests would have been stopped long ago.
"The fact is that we believe that on issues like tourism - a trade vital to the economy of the Maldives - petty rows over who runs the government are of secondary importance."
Mr Gafoor was equally dismissive of opposition claims - backed by Naushad Waheed - that the government was dragging its feet over announcing a date for new elections.
"The government is currently in talks with all parties as to exactly when the vote will be held," he said.
"But they will, I am sure, by held before the end of 2013."
Related Internet Links
The BBC is not responsible for the content of external sites.