Profile: Jose Ramos-Horta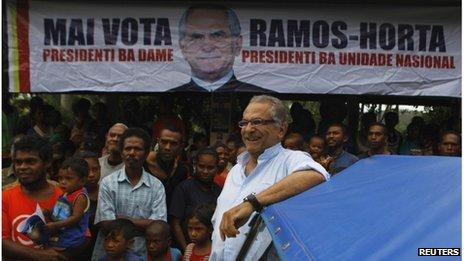 Jose Ramos-Horta appears to be heading for defeat in East Timor's presidential election, which could spell the end of his decades-long political career as one of Asia's most respected statesmen.
For many years he helped the country's battle for independence from Indonesia by lobbying governments around the world to take action against Jakarta.
His tireless campaigning was recognised with the Nobel Peace Prize in 1996.
When the nation finally became self-ruling, Mr Ramos-Horta served as foreign minister, prime minister and eventually president from 2007.
But in a sign of the emergent nation's problems, he was seriously wounded in an assassination attempt in February 2008.
'Emotional rollercoaster'
Born in East Timor's capital Dili in 1949, his mother was a native Timorese and his father was a Portuguese national who had been deported for opposing the Salazar dictatorship in Lisbon.
By the early 1970s, Portugal's empire was crumbling, and Mr Ramos-Horta began to follow in his father's footsteps, agitating for independence.
He was soon forced into exile in Mozambique from 1970-71 for spreading anti-Portuguese subversion.
But he returned and continued the campaign.
Portugal's sudden exit in 1975 led to outbreaks of fighting between rival factions, many of them backed by Indonesia.
As signs grew of an imminent Indonesian invasion, Mr Ramos-Horta fled East Timor and made a last-ditch effort to persuade the UN Security Council to back his cause.
His efforts failed and three days later Indonesia launched a full-scale assault, beginning a painful 24-year attempt to assimilate East Timor by force.
Mr Ramos-Horta spent that time in exile, pressing world leaders on behalf of the armed resistance, and also training as a human-rights lawyer.
He once said the independence campaign had turned his life into an "emotional rollercoaster".
The Indonesian government branded him a criminal and a traitor.
In 1996 the Nobel committee awarded him the peace prize, and said it hoped the decision would spur efforts to solve East Timor's problems "based on the people's right to self-determination".
The award brought international attention to reports of widespread abuses conducted by the Indonesian authorities in their efforts to quell opposition to Jakarta's rule.
"This was about to become a forgotten conflict and we wanted to contribute to maintaining the momentum," said the then Nobel chairman, Francis Sejersted.
More than 100,000 people are thought to have died as a result of the 24-year conflict, according to an independent report.
Three of Mr Ramos-Horta's brothers and one sister were among those who died.
From his bases in Australia and the US, he became a harsh critic of Indonesian President Suharto.
He lobbied governments to cut ties with the Suharto regime, and upped his campaign for self-determination when Indonesia plunged into an economic crisis in May 1998.
The following year, the people of East Timor held an independence vote in which 78.5% of them chose to break from Indonesia.
The ballot was marred by horrific violence and atrocities that were later blamed on the Indonesian authorities and the militias they supported.
The UN eventually stepped in to take control, and Mr Ramos-Horta returned to his homeland.
He was to dominate post-independence politics along with Xanana Gusmao, the leader of East Timor's armed struggle.
East Timor was declared fully independent in 2002, with Mr Ramos-Horta becoming foreign minister and Mr Gusmao in the largely ceremonial role of president.
By 2006, however, the emergent nation was once again plunged into chaos as Prime Minister Mari Alkatiri sacked 600 members of the 1,400-strong army.
The move sparked weeks of violence, gave rise to a rebel movement, and saw faction fighting between armed groups spread across the country, displacing 150,000 people.
Mr Alkatiri resigned over his handling of the violence and Mr Ramos-Horta took over as prime minister.
A year later he was voted in as president, with Mr Gusmao taking over as prime minister.
But the country was still suffering the effects of the breakdown of order, and in February 2008 a group of rebel soldiers launched a co-ordinated assassination attempt on Mr Gusmao and Mr Ramos-Horta.
While Mr Gusmao escaped unhurt, Mr Ramos-Horta was shot in the stomach and had to be flown to Australia for two months of emergency treatment.
Since then, Mr Ramos-Horta has been criticised for being too soft on the perpetrators of the 1999 outbreak of violence, and failing to tackle poverty in the country.
As he cast his vote in the 2012 election, he told reporters that he would "always be a winner".
He said: "If I'm re-elected, I win, I have a wooden cross that I have to carry for the next five years in the service of these great people. If I'm not re-elected, I win my personal freedom."