Maldives parliament opening marred by clashes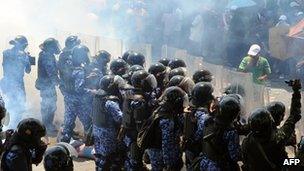 Police in the Maldives have used tear gas against opposition demonstrators trying to disrupt the opening of parliament by the new president.
Hundreds of protesters blocked roads and shouted slogans calling for the resignation of President Waheed Hassan.
He was eventually sworn in as president, but only after 40 protesters and eight policemen were injured.
Mr Waheed took office in February. He denies that he was able to do so by staging a mutiny.
Similar protests disrupted the opening of parliament earlier this month.
Both demonstrations - staged by former President Mohamed Nasheed's Maldivian Democratic Party (MDP) - were intended to stop Mr Waheed from delivering his inaugural presidential address.
Television footage on Monday showed police using tear gas against the demonstrators as security staff in parliament forcibly removed four slogan-shouting opposition MPs who attempted to stop the president from making his address.
"Police used force, as demonstrators were throwing stones, broken pieces of glass and were also damaging private and public property," police spokesman Ahmed Shiyam told the AFP news agency.
The BBC's correspondent in the region, Charles Haviland, says that Mr Waheed managed to inaugurate the session amid heckling from MDP parliamentarians.
The MDP insists that the ousting of the country's first democratically elected president was a coup. It has called for early presidential elections to be announced before it will talk to the new administration.
But the new government, which has brought back several figures from the pre-democracy period, says the transfer of power was constitutional.
Mr Waheed told parliament that having elections sooner than July 2013 would involve constitutional changes but said he hoped to bring political leaders together to discuss the possibility.
Related Internet Links
The BBC is not responsible for the content of external sites.