Obama to visit demilitarised zone on Koreas' border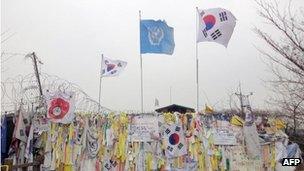 President Barack Obama is due to visit the demilitarised zone (DMZ) on South Korea's border with the North on Sunday before a nuclear summit in Seoul.
The United States president's trip to the area separating the north and south on the Korean peninsula comes amidst increased tension over Pyongyang's plan to launch a rocket next month.
His visit will be a show of support for South Korea, said the White House.
There are currently about 28,500 US soldiers stationed in the area.
North and South Korea technically remain at war because their three-year conflict ended in an armistice in 1953 and no peace treaty was signed. The US has since stationed troops in South Korea.
The 4km(2.5-mile)-wide DMZ is probably the most heavily guarded border area in the world. Former US President Bill Clinton described it as ''the scariest place on earth'' when he visited in the 1990s.
Mr Obama, who is expected to renew pressure on Pyongyang to abandon its nuclear ambitions, will also meet South Korea's President Lee Myung-bak ahead of the summit starting on Monday.
The three-day Nuclear Security Summit involves more than 53 leaders from nations and international organisations.
Mr Obama is also due to meet Chinese President Hu Jintao and is widely expected to urge him to draw on Beijing's influence for nuclear negotiations with Pyongyang.
North Korea's announcement last week that it will launch a rocket carrying a satellite to mark its late leader Kim Il-sung's birth centenary in April drew widespread criticism.
The move is seen as violating UN Security Council resolutions passed after a similar launch in 2009.
South Korea said the launch would be a "grave provocation" and Japan urged the North to "exercise restraint".
Japan, particularly concerned as the 2009 rocket was launched over the country, said the move would ''interfere with our effort toward a dialogue''.
Last month, Pyongyang agreed to suspend long-range missile tests as part of a deal for the US to supply 240,000 tonnes of food aid to North Korea.
The US has said that the planned launch could violate the agreement and affect the resumption of food aid.
The North said that the ''working satellite'' launch is an opportunity for ''putting the country's technology of space use for peaceful purposes on a higher stage''.
At the nuclear summit dedicated to reducing the threats of nuclear terrorism, the North Korean issue will loom large, along with that of Iran's nuclear programme.
Related Internet Links
The BBC is not responsible for the content of external sites.