South Korean shanty town on sought-after real estate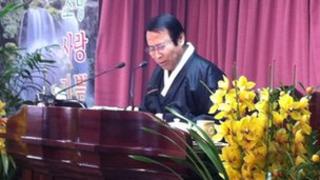 Every Sunday morning, Pastor Kim Moon-bae unlocks his tiny hand-built church in the winding alleys of Guryong, and leads his population in a series of brisk, full-throated hymns, thumped out on the upright piano in the corner by his daughter.
His shiny black and gold robes are a decadent splash of colour in this unique community. The mural on the church wall is nestled against a run of ragged shacks.
Guryong is a pretty unexpected discovery here in Asia's booming heartland: a South Korean shanty town, perched on the edge of Seoul's glitziest postcode.
The gleaming apartments that tower over its sprawl go for a cool $3m (£1.8m) a piece.
'Full of fear'
Beneath them, 2,500 people live in makeshift shelters, spread across some of the capital's most sought-after real estate.
Here, within sight of the capital's millionaires, the tar-paper shacks are surrounded by rubble rather than BMWs. Heating comes in the form of charcoal logs, and there is a drainage ditch in place of a swimming pool.
So there is a lot for the congregation to pray for at Pastor Kim's Sunday service. His parishioners, he says, are a complicated lot: stressed, in limbo and full of fear.
"It's hard," Kim Gong-soon tells me, "and it breaks my heart to live here. There are floods and fires, which terrify me. But I have no money so I can't afford to live anywhere else."
This is private land, but this encampment is illegal. Many people arrived in 1988, when preparations for the Seoul Olympic Games forced them from their old homes.
'Deepest problems'
They have been here so long, they have even rigged up a rudimentary postal system. And the government last year gave them temporary residency cards, so they could vote in upcoming elections for the first time.
But oddly enough, says Pastor Kim, it is the promise of new houses that is causing the deepest problems here.
"When I first moved here there was a sense of community, even though we were poor," he said.
"But when the developers came, we began to take sides and the neighbourhood became divided. Some were trying to protect the village; others were taking advantage of the redevelopment. Our community broke apart."
Developers are keen to get their hands on the Guryong site. The city's government is currently trying to change its status from farmland to construction land, which would see its value spiral towards that of the penthouse apartments which overlook it.
But bids to redevelop the site have caused bitter conflicts over who will benefit, and who will lose.
In Seoul's government offices urban planning director Kang Maeng-Hoon is trying a new approach - taking over the billion-dollar plan to make sure Guryong's residents are not squeezed out again.
"This shows how our society has developed and matured," he told me.
"In the past, no-one would dare prioritise illegal tenants. But now, they are seen as residents of Seoul too. And we realise the limitations of how we have done things over the past 20 years when we simply chased people away."
At Pastor Kim's Sunday service, they still pray for deliverance the old-fashioned way. With its poverty and its stigma, this place has always been more about the prayer book than the cheque book.
But things are changing - even though for many here worldly salvation has been the hardest challenge yet.