Afghanistan avalanche 'kills 22' in Badakhshan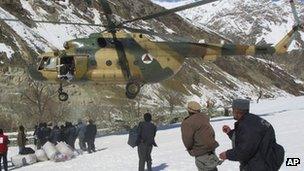 At least 22 people from one extended family have been killed in an avalanche in Afghanistan's north-eastern Badakhshan province, officials say.
They say that the avalanche took place in the Wakhan Corridor, a small, mountainous and remote finger of land which pokes into China.
The area is almost two days' walk from the provincial capital, Faizabad.
Afghanistan is having a harsh winter, with nearly 100 people killed in two previous avalanches earlier this month.
Both took place in the north-east of the country.
"The 22 people [who were killed] were members of one extended family who lived in several houses. We have sent a team to the area. But I can confirm another human tragedy," Badakhshan Disaster and Preparedness department head Sanaullah Amiri told the BBC.
Mr Amiri said that those killed in Wednesday's avalanche included women and children.
He said that there had been a number of avalanches in the area which is frequently cut off in winter.
The area is surrounded by 7,000m (23,000ft) peaks of the Hindu Kush and the Pamir mountains. Its high passes and hanging valleys are the home of Kyrgyz nomads.
In the corridor itself the Wakhan people live and speak their own Wakhi language - a form of archaic Persian.
The BBC's Bilal Sarwary in Kabul says Afghanistan is suffering one of its harshest winters in many years.
Badakhshan is also one of the country's poorest regions.
Hundreds of homes and thousands of cattle have been lost because of heavy snow this winter.