Burma postpones by-elections in troubled Kachin state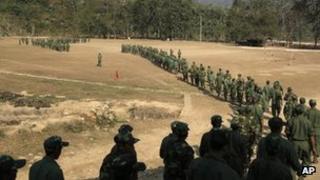 Burma's authorities have postponed by-elections to be held in the northern state of Kachin, where fighting with ethnic rebels resumed last year.
They said security for the vote could not be guaranteed.
Opposition candidates have questioned the decision, saying the three constituencies are in areas not directly affected by fighting.
The opposition has also alleged that irregularities could jeopardise a free and fair vote on 1 April.
The National League for Democracy says some of its candidates have been harassed and that in some areas the electoral registers are out of date.
Human rights groups have accused Burmese troops of serious human rights abuses in an offensive against Kachin rebels that has forced tens of thousands of people to flee their homes.
Conflicts between Burma's central government and rebels from the various ethnic minority groups have flared sporadically over the decades since the country gained independence.
The government is trying to sign ceasefires with rebel groups in preparation for further political discussions. Attempts to end the fighting in Kachin state have proved difficult.
The Kachin have so far refused to sign any agreement before political issues are resolved, but are now entering into talks.
Crucial test
Following Friday's announcement, by-elections are now scheduled to take place in 45 constituencies on 1 April.
The NLD of pro-democracy leader Aung San Suu Kyi is fielding candidates in most of the seats up for grabs.
But with days to go to the vote, the party says thousands of dead people remain on Burma's electoral roll.
The NLD also said households had complained that some family members had been excluded from the voter list.
It also cited what it said were instances of harassment.
In one example cited, the party said the ruling Union Solidarity and Development Party (USDP) had set fire to a haystack near where an NLD candidate was giving a speech in Sagaing in the north-west of the country.
In Irrawaddy, the party said a government minister had campaigned for the USDP, breaching electoral rules.
"The NLD thinks that these kind of incidents can impact on whether the elections are free and fair," a party statement said.
The 1 April vote is seen as a crucial test of reforms. Asean, the US, the EU and China are among those who have been approached to monitor voting.
Correspondents say the by-elections - in which Ms Aung Sang Suu Kyi is competing for the first time since 1990 - are hugely symbolic.
If they are seen as free and fair, it could pave the way for the lifting of foreign sanctions against Burma.