Pakistan violence: Karachi killing sparks fatal riot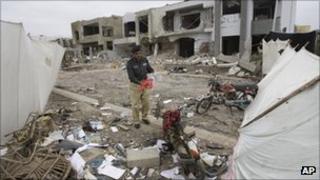 At least seven people have been killed and more than 30 vehicles set on fire in Pakistan's biggest city, Karachi, police say.
Armed men torched most of the vehicles, police say, forcing shops, schools and businesses across the city to close.
The disturbances came hours after an activist belong to Sindh province's governing MQM party was shot dead.
Frightened residents have spoken of armed groups freely roaming through some neighbourhoods of the city.
Karachi has long suffered outbreaks of violence and turf wars between rival political groups.
This round of violence has also forced universities to postpone their exams.
The MQM party has blamed the killing of its activist on a local gang. It has called for a day of mourning.
A senior MQM member - Raza Haroon - condemned the murder. He told the BBC that those responsible must be brought to justice.
"We'll be satisfied only when the government will practically implement what they've announced, by arresting... notorious criminals in the area," he said.
"This is an issue of the security of people and an issue of the failure of state institutions. They are failing to provide security to citizens, even in their homes."
At least 800 people died in politically motivated attacks in Karachi throughout 2011.
In October the Pakistan Supreme Court ruled that while all political parties were responsible, the MQM, the party that controls Karachi, was especially at fault.
The MQM has denied the allegations and says that it is being victimised. It says that it is being unfairly singled out by the judiciary because of its liberal views.
Much of the recent violence involves armed gangs linked to rival ethnic and political groups, although the security forces in August suggested that an influx of hundreds of thousands of ethnic Pashtuns had worsened tensions.