The Sherpas who swapped Everest for a watchmaker's workshop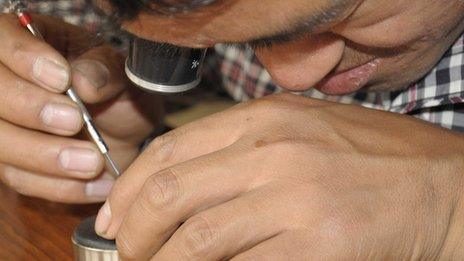 Namgyal is on the face of it just like any other Sherpa from Nepal - tough, weather-beaten and a survivor of the numerous brushes with death that befall the men who scale the world's highest mountains.
But there is one thing about him that does make him a little different from his contemporaries - he is wearing one of the world's most expensive watches.
And what's more, he made it himself.
"When I wore the watch for the first time I kept checking the time every other minute as I was not sure whether it would work or not," the 27-year-old mountaineer says.
But the watches he and his fellow mountain climber Thundu are wearing are unlikely to break down.
They belong to the exclusive Kobold brand, are worth thousands of dollars and are favoured by celebrities, adventurers, elite American forces, Nasa scientists and even former US president Bill Clinton.
The company has just opened a workshop and a shop at an upmarket shopping hub in Kathmandu, frequented by the rich and famous. And Namgyal and Thundu are in charge.
They have come a long way from their remote village in the mountains of eastern Nepal.
Just two years ago the pair were mountaineers and guides, helping eager foreign climbers achieve their dream goal of climbing Everest, the highest mountain in the world.
They were eminently well qualified - Namgyal has climbed the peak seven times and Thundu nine times.
How they came to exchange their heavy rucksacks, ropes and ice axes for the tiny forceps, screw drivers and monocles used to assemble high-end mechanical watches is an extraordinary tale, which began when they escorted Michael Kobold, founder of the Kobold watch company, and his wife on an Everest expedition.
As they ascended the mountain, a life-threatening incident occurred.
"My oxygen cylinder failed during the ascent, so Namgyal tried to rectify the problem and [gave me] his oxygen bottle, but that didn't work," Mr Kobold recalled.
"He then started to change my regulator, but in the meantime I was beginning to pass out.
"Just before I did so - on a very narrow ledge of the mountain - Namgyal gave me his oxygen and saved the day."
Mr Kobold said the pair saved not only his life but his wife's too during the terrifying ordeal.
Thundu, 38, and a father of two, says that the life of a Sherpa mountaineer is full of risks.
Every time Sherpas leave home on a new mountain expedition their families pray for their safe return.
Accidents causing injury or death are not uncommon.
"That's why our wives and families tell us to choose a profession that allows a person to live longer, even if it pays less," Namgyal says.
After his dramatic brush with death, Michael Kobold and his close friend, the explorer Sir Ranulph Fiennes, came up with the idea of providing Namgyal and Thundu with a safer career.
Earning a living as a mountain climbing guide in Nepal is not something a person can count on indefinitely.
"If you hurt one of your feet, or you hurt your legs, that's it," Sir Ranulph says.
"It's rather like [the career of] an international footballer - it would be foolish for them to think that they can go on footballing forever.
"There will be a time when they need to be able to fall back on something more normal, which doesn't require such a high degree of physical fitness."
And so the idea of helping the Sherpas become top-of-the-market watch makers was born.
Mr Kobold took Namgyal and Thundu to the US, trained them in his lifelong passion and gave them the wherewithal to make luxury mechanical watches in Nepal.
He says he is delighted that the pair are now in a business - which like mountain guiding - is directly dependent upon their own skills.
"We are extremely grateful to them. That's why we spent so much time and money on them. It has cost more than $300,000 [£188,000] to make this happen for them," he says.
"But no amount of money could ever repay what they have done for us."
As with all professionals, Thundu and Namgyal nevertheless worry about the sustainability of their new-found trade.
Nepal is not particularly known for the wealth of its citizens or for expensive watches.
But they can at least bank on Mr Kobold's business acumen.
The Himalaya range of Kobold watches has a dial made of rocks collected from the summit of Mount Everest and is clearly labelled "Made in Nepal".
The watchmakers believe that these unique features should attract enough foreign and domestic watch connoisseurs to keep their business ticking over.
Related Internet Links
The BBC is not responsible for the content of external sites.