Six held in Thailand and Australia on human trafficking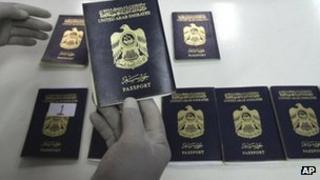 Police in Thailand and Australia have arrested six people believed to be part of a human trafficking network, following a year-long investigation.
An Iraqi man and a Thai woman, reportedly his wife, were detained in Thailand on passport forgery charges.
In Australia, four people were arrested for allegedly smuggling people to the country through South East Asia.
Authorities in Malaysia and Indonesia were also involved in the operation, but made no arrests.
The arrests on Tuesday were part of "Operation Arapaima" - a cross-border effort to crackdown on a trafficking network spanning the region, said a Thai police spokesman.
Thai police said they found 16 forged passports for the United Arab Emirates, Iraq and Iran, and machines for producing fake passports in a raid on a house owned by the arrested woman.
Police in Australia arrested two men, aged 37 and 32 in Sydney, and two other men, aged 42 and 19, in Melbourne.
The Australian Federal Police said ina statementthat the four, alleged to be the ''key organisers and facilitators'' of the human trafficking syndicate, had been charged with people-smuggling offences.
"The organisers of these ventures are taking advantage of vulnerable people and are putting their lives at risk," said police commander Jennifer Hurst.
It is believed that the fake passports - which Thai police said cost $400 (£250) each - are sold to people, mostly from the Middle East.
The buyers would use Iranian or Iraqi passports to travel to Thailand, authorities said, and then use the UAE passports to travel to Australia by plane or boat.
Australia has long been a popular destination for refugees, asylum-seekers and immigrants entering the country illegally.