Australia coy on US spy base plan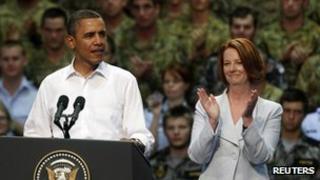 Australia has played down reports that it plans to allow a United States air base on islands in the Indian Ocean.
A US newspaper reported the plans on Tuesday, saying this would be a strategic point to fly spy planes over the South China Sea.
However, Australian Defence Minister Stephen Smith described the plans as ''long-term'' and ''down the track''.
The two countries are boosting defence ties, with 250 US marines due to arrive in Darwin early next month.
The US will eventually deploy a 2,500-strong force in northern Australia, a move that has irked China.
'Long term prospects'
AWashington Post reportsaid on Tuesday that the two countries were planning ''a major expansion of military ties'', including plans for drone flights from the Cocos Islands - a pair of coral atolls in the Indian Ocean north-west of Australia.
The location ''could be an ideal site not only for manned US surveillance aircraft but for Global Hawks, an unarmed, high-altitude surveillance drone'', the report said, citing officials from both countries.
On Wednesday, Australian Prime Minister Julia Gillard confirmed that there had been discussions on military co-operation with the US, including the possibilities involving the atolls, but did not elaborate.
Mr Smith told reporters in Australia that this was not a priority in the current plan for closer military ties with the US.
''I also indicated that down the track Cocos was a possibility,'' he told ABC News. ''But there have been no discussions that I've had with my counterparts, whether that's Bob Gates or Leon Panetta, about any of the detail of that.''
''It's a long term prospect and should be treated as such."
Ms Gillard announced in November 2011 when US President Barack Obama visited Canberra that US marines would be deployed in northern Australia on a rotating basis for training.
It was seen as a move to counter China's growing influence in the region and likely to bolster US allies in the South China Sea dispute.
China, the Philippines, Vietnam, Malaysia, Brunei and Taiwan have overlapping territorial claims in the area believed to contain rich reserves of oil and natural gas, as well as key shipping lanes.
Canberra and Washington have been long-time allies, but China is Australia's biggest trading partner.