Pakistani and US top brass meet in Islamabad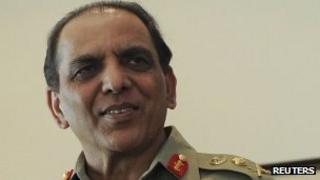 Pakistan's army chief has met two top US generals in the first such talks since US air raids killed 24 Pakistani troops on the Afghan border last year.
Gen Pervez Kayani held talks near Islamabad with Gen James Mattis, head of Central Command, and Gen John Allen, Nato force commander in Afghanistan.
The attack led to Pakistan closing its border to Nato supplies to Afghanistan.
On Tuesday Pakistani PM Yousuf Raza Gilani met US President Barack Obama at a nuclear summit in Seoul.
A Pakistan army statement said that the generals discussed the Pakistani investigation of the American air strikes in November and more effective ways to improve co-ordination on the Afghan-Pakistan border.
The talks were held at army headquarters in Rawalpindi.
The United States has expressed regret for the November attack, but has so far not given a formal apology.
Pakistan's parliament is now debating a revised framework for its relationship with Washington.
Correspondents say that the US is eager to get the supplies moving again because it is much more expensive to ship goods by an alternative route that runs through Central Asia.
The supply line through Pakistan is also vital for the US when it trucks out equipment from Afghanistan as its combat troops are due to withdraw from the country by the end of 2014.
A better relationship with the US is also in Pakistan's interest, correspondents say, because it needs Washington's assistance to keep its struggling economy afloat.
Relations between the two countries were already strained because of the killing of al-Qaeda leader Osama Bin Laden - which happened without Islamabad's knowledge - by US special forces in Pakistan last May.
But correspondents say that after a cooling down period, there are growing signs that both sides are keen to reset their relationship, albeit on more pragmatic terms.
Tuesday's meeting between Mr Gilani and President Obama was the first held by the two men since Bin Laden's death.