Sultan of Brunei's ex-wife wins jewellery case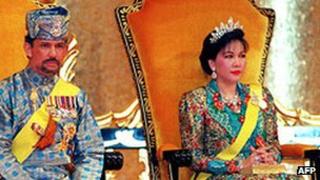 The ex-wife of the Sultan of Brunei has won a multi-million dollar case in the UK against her former female bodyguard.
Mariam Aziz, who was married to the sultan between 1981 and 2003, had filed two claims in London against Fatimah Kumin Lim for jewellery theft.
The judge ruled Ms Lim had sold on a diamond bracelet and two diamonds, together worth around $20m (£12.5m), without permission.
Ms Aziz is now seeking damages from Ms Lim, who lives in Singapore.
Giving his decision at the High Court in London, Mr Justice Lindblom said he found in favour of Ms Aziz but that an assessment needed to be made to the determine how much should be awarded in damages.
Gambling debts
The diamond bracelet was thought to be worth about $5.5m while a blue pear-shaped diamond was valued by Ms Aziz at $12.7m. A rectangular yellow diamond is said to have a minimum value of $1m.
Ms Aziz had earlier told the court she had given a diamond bracelet to one of her bodyguards for safekeeping during a night out in 2008, and had not seen it again.
Her former bodyguard said she had been asked to sell the jewels on to pay off her boss's gambling debts.
But Ms Aziz's lawyers told the court that Ms Lim had arranged the sale of the bracelet to a Geneva-based company for more than $5m because it was she who had gambling debts.
Ms Lim, who is based in Singapore and was not in court, has been made the subject of a worldwide order freezing her assets.