Suicide bomber kills Afghanistan peace councillor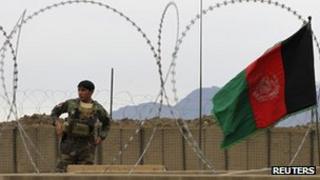 A suicide bomber has killed the influential head of a regional peace council in eastern Afghanistan, security officials say.
Maulvi Hashem Munib was on his way home from Friday prayers in Kunar province when he came under attack.
President Hamid Karzai condemned the murder, saying enemies of Afghanistan had killed a messenger of peace.
Maulvi Munib was a former commander of a major Afghan mujahideen group, Hizb-i-Islami.
The head of the government's High Peace Council in Kunar, he is said to have persuaded insurgents to lay down their arms and join the peace process.
Kunar is a stronghold of the decade-long Taliban-led insurgency against President Karzai's government and its Western allies.
Afghan enemies
The president said: "The terrorists are trying to undermine the role of elders who are working for the good of Afghanistan, but they should realise that they can never achieve their evil goals by such heinous acts."
The national head of the High Peace Council, ex-President Burhanuddin Rabbani, was assassinated last year by a man posing as a Taliban envoy who hid a bomb in his turban.
On Thursday, Nazik Mir, a prominent anti-Taliban commander in the province of Badakhshan, was killed in a suspected Taliban suicide attack.
Late on Wednesday, gunmen in Farah province killed eight people in an attack on a checkpoint manned by a government-sponsored militia.
Officials say all three attacks show how the Taliban is targeting Afghan enemies as well as Nato forces.