Bangladeshi computer whizz kid eyes record books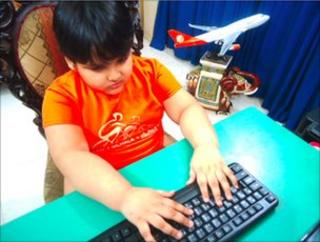 A six-year-old boy from Bangladesh is hoping to become the world's youngest computer expert after becoming obsessed with his mother's PC at the age of two.
Wasik Farhan-Roopkotha, who turned six in January, is hoping his skills will be recognised by Microsoft and Guinness World Records.
As a toddler, Wasik started to show an aptitude for computers and before long he had mastered several popular video games, including Modern Warfare and Metal Gear Solid .
He began typing in Microsoft Word as a three year-old and knew how to programme and download game emulators at the age of four.
His mother Cynthia Farhan-Risha said: "I knew he was very different since his birth. I couldn't believe my eyes when he began computing when he was just seven months old.
"Wasik started to play and master many complicated games and started installing them just after he turned two and also started typing in MS Word from around the same time."
By the time he was of school age, Wasik was not integrating at his local primary and so his parents decided it was best for him to be taught at home.
According to his mum, Wasik's English is still fairly limited. But he did have a few words to say in Bengali.
"I really enjoy playing on the computer and learning new skills," he told the BBC.
"My ambition is to be a computer expert and to work for a big computer firm in the future."
Wasik - who comes across as a very quiet young boy - has now been working with computers for more than four years, but he still enjoys mixing with other children of his age, playing football and listening to music.
However, computers are his main passion and his parents are determined that their son will not let his talents go to waste. They are hoping to get some government funding to help him fulfil his potential.
'Fantastic career'
"If Wasik receives the right support here in Bangladesh and from the best colleges and universities in the world then who knows what he will go on to achieve. I think he is in on the right track at this stage of his development," Ms Farhan-Risha says.
"My son has achieved so much already without any computer training or guidance. He has already gained some knowledge of C++, which is one of the most popular programming languages. He is also able to write sentences on a keyboard efficiently and swiftly without having to look at the keyboard.
"As a mother, I dream that in the future he will go on to become a great computer scientist and help to introduce a new episode in the cyber world," she added.
Wasik has already received extensive media coverage in Bangladesh.
"He has visited several IT institutions in and around Dhaka, who have all said positive things about his talent," his mum says.
"Although he is still very young, everyone that I have met believes Wasik can certainly go on to have a fantastic career in the world of computer programming."
'Discipline and focus'
Ms Farhan-Risha says she also hopes to get Wasik mentioned in Guinness World Records "because currently they do not have anyone listed as the youngest computer programmer in the world".
"But we will have to wait and see and as long as Wasik continues to progress then the world can become his oyster," she says.
Guinness World Records said: "We do not monitor such a record in our database at the moment, but Wasik's family is welcome to make a claim on our website."
Like many parents with gifted children, Wasik's parents say they have struggled to rein in Wasik's behaviour. He can sometimes show signs of stubbornness, but his parents hope to keep his feet firmly on the ground.
Ms Farhan-Risha explained: "Since he was very young, Wasik has tried to get his own way. For example, he wouldn't have his meals without us letting him go on the computer.
"It was awkward for us to find the right balance, but we realise that every child needs discipline and focus.
"We hope to keep him grounded and as he grows older let him know that he has been blessed with a gift which he shouldn't take for granted."