India's Kingfisher Airlines ends overseas flights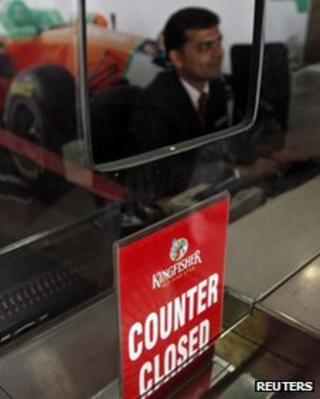 India's Kingfisher Airlines is ending its international operations with the its last overseas flight to London on Tuesday, officials say.
Kingfisher has debts of $1.3bn (£800m) and banks have refused to lend it more money for day-to-day operations.
The cash-strapped airline stopped flights to Dubai, Kathmandu, Colombo and Bangkok on 25 March.
India's tax authorities last week asked the airline to pay $11.84m (£7.4m) owing in service tax.
The airline's bank accounts were frozen in February for non-payment of taxes. They were unfrozen earlier this month.
Kingfisher owes money to airports, tax authorities, lenders and its own staff.
Workers called off a planned strike on 3 April after an assurance from the airline that they would be paid.
The airline has cancelled dozens of flights recently due to its financial situation.
It suspended most international operations and cut down on local routes. Its last overseas flight is due to arrive in London at 1810 BST on Tuesday.
The airline has never made a profit since it was launched in 2005.