East Timor in presidential run-off election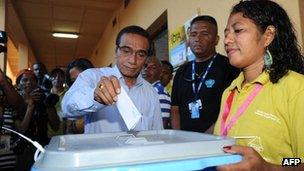 East Timor is electing a new president in a run-off vote between two former freedom fighters, ahead of a decade of independence next month.
Opposition leader Francisco Guterres and former guerrilla leader Taur Matan Ruak are pitted against each other.
The incumbent, President Jose Ramos-Horta, admitted defeat after trailing in third place in the first round of the election last month.
Mr Ramos-Horta said he would hand over power to the winner on 19 May.
Both Mr Guterres and Mr Ruak played key roles in the country's struggle for independence from more than 20 years of Indonesian occupation.
Mr Guterres won the most votes in the first round of polling, while Mr Ruak is backed by Prime Minister Xanana Gusmao.
The presidency is a largely ceremonial role, but the election comes in a year of transition with United Nations peacekeepers scheduled to leave by the end of the year.
East Timor gained independence in 2002 after three years of UN administration, which followed more than two decades of bloody guerrilla warfare during Indonesian rule.
Mr Ramos-Horta, a Nobel peace prize winner, has been a key figure in East Timor politics since 1999. He defeated Mr Guterres in the 2007 run-off after coming second in the first round.
He served as foreign minister, prime minister and eventually president from 2007.
In July, the country is due to hold general elections.