Bangladesh rail minister resigns in corruption scandal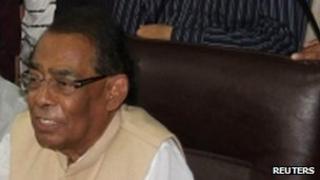 Bangladesh Railways Minister Suranjit Sengupta has announced his resignation following allegations that he took cash bribes from applicants seeking jobs on the state-run railway.
Mr Sengupta is being investigated for corruption after his personal secretary and two railway officials were found with $86,000 (£54,000) in a minibus.
He denied the money was from applicants seeking jobs on the railway.
He said he was resigning to preserve democracy and uphold transparency.
The veteran politician and lawyer told a news conference that his decision to go would enable a full probe into the allegations. He said that he did not have either a "direct or an indirect link" with the money.
"I am stepping down even though I was not involved in the incident. A lot of people think if I stay at the helm of the ministry, the investigation could be influenced," he said.
"I took the decision for the sake of fair investigation, and to... uphold democracy."
Bangladeshi newspapers say that Mr Sengupta resigned after failing to convince the prime minister that he knew nothing about the money.
The three officials had allegedly stored the cash in the minibus - they told local newspapers that they were going to Mr Sengupta's house with the money.
The former minister - who was only appointed to his position four months ago - expressed the hope that the "truth" would be revealed throughout the investigation.
He said that the governing Awami League party had nothing to do with the allegations. "As the minister, all the responsibility of the ministry is mine," he said.
Correspondents say that the incident is nevertheless embarrassing for the government - its popularity has recently been waning because of soaring food prices, a cut in energy subsidies and a series of graft allegations.