Taur Matan Ruak heading for East Timor poll win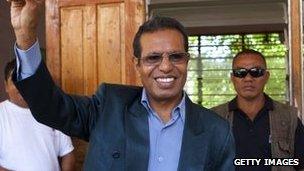 Former guerrilla leader Taur Matan Ruak is on track to win East Timor's presidential run-off, preliminary results show.
The election commission said he had taken just over 61% of the vote, far ahead of opposition leader Francisco Guterres with almost 39%.
Incumbent Jose Ramos-Horta was defeated in first-round voting.
The polls are seen as a test of East Timor's stability as it prepares to mark 10 years of independence.
Official results are expected on Wednesday.
Both Mr Ruak and Mr Guterres played key roles in the country's struggle for independence from more than 20 years of Indonesian rule.
The presidency is a largely ceremonial role, but the election comes in a year of transition with United Nations peacekeepers scheduled to leave after a six-year stay.
East Timor gained independence in 2002 after three years of UN administration, which followed more than two decades of bloody guerrilla warfare during Indonesian rule.
UN peacekeepers were deployed to the country in 2006 after widespread fighting and unrest involving former soldiers from different factions.
In July, the country is due to hold general elections, after which the peacekeepers are due to depart.