Bangladesh seizes 400 tortoises at Dhaka airport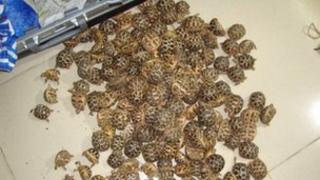 Customs officials in Bangladesh have seized more than 400 tortoises which they found in suitcases bound for Thailand.
Acting on a tip-off, staff at Dhaka airport opened the luggage of two passengers who were flying to Bangkok.
The tortoises they found - which included three endangered species - have an estimated value of $35,000 (£22,000) on the black market.
Two Indian nationals have been arrested in connection with the incident.
The BBC's Anbarasan Ethirajan in Dhaka says tortoises are popular as exotic pets and their meat is sometimes used in oriental medicine.
It is thought that the animals had come from India, and Dhaka was being used as a transit point.
Conservationists say smugglers are increasingly using Bangladesh as a route for the illegal transportation of wild animals.
Last year officials in Thailand found hundreds of tortoises, turtles and gharial crocodiles in a suitcase that had arrived on a flight from Bangladesh.
They are concerned that the trade is systematically wiping out the region's fresh water turtles and tortoises.
Conservationist Dr Anisuzzaman Khan told the BBC that more resources were needed to tackle the problem. He said not enough checks were being made at airports and sea ports in Bangladesh.