Taliban in Afghanistan make online donations appeal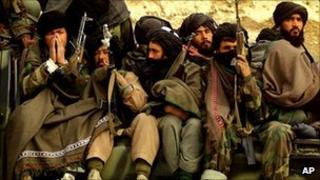 Afghanistan's Taliban has made a call for donations on one of its websites.
The appeal, which provided telephone numbers and email addresses for the Taliban's financial commission, called on Muslims to support the insurgency.
Some analysts believe the appeal is primarily a propaganda move, because the Taliban is thought to receive most of its funding from opium production.
The Taliban governed Afghanistan from 1996 until 2001, when a US-led military coalition dislodged them.
Insecurity
The insurgent militant group claimed on Saturday that it was "in dire need of financial assistance... for its military and non-military expenditures."
It called on readers to "extend a helping hand in the form financial aid in the same way as [Taliban fighters] take part in Jihad physically."
But correspondents say that the call for cash is little more than a propaganda push to gain popular support.
The Taliban is believed to receive funding through smuggling activities and private benefactors in the Gulf, although Afghan and Western intelligence claims that opium production in Afghanistan forms the majority of the Taliban's income.
Separately, a UN Office on Drugs and Crime (UNODC) report published on Tuesday suggests that opium farming in Afghanistan will increase in 2012.
The Afghanistan Opium Survey 2012 said that opium production in nine of 34 Afghan provinces was projected to increase.
Fifteen of the country's provinces were listed as free from poppy cultivation, compared with 20 provinces in 2009 and 2010.
The report links opium farming with insecurity, and lack of agricultural assistance to villages.