Maldives President Waheed Hassan sets elections for 2013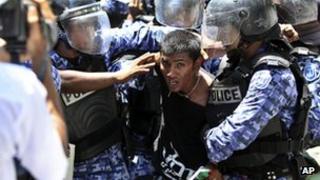 The Maldives president has set July 2013 as the date for the next presidential elections.
In an announcement on Wednesday, President Waheed Hassan's office said that this was the earliest date allowed by the constitution.
Former president Mohamed Nasheed's Maldivian Democratic Party (MDP) criticised the move, saying elections should be held in 2012.
Mr Nasheed, who quit in February, says he was removed from office by force.
On Monday, the Commonwealth's human rights watchdog had reiterated its call for Mr Waheed's government to hold polls before the end of 2012.
Mr Nasheed resigned as president on 7 February amid unrest over the arrest of a senior judge.
He said at the time that he was stepping down to prevent "bloodshed", but later claimed that he was forced to do so at gunpoint.
Mr Nasheed has called Mr Waheed's government a "dictatorship" and demanded that Mr Waheed call early elections.
Mr Waheed had initially planned to form a national unity government and hold elections in late 2013.
In a statement, the president's office said Mr Hassan was "fully committed to strengthening democratic processes" and had called for elections "at the earliest constitutionally mandated time".
However, MDP supporter and former Maldives High Commissioner to London Farah Faizal told the BBC Mr Nasheed had been ousted in "a coup d'etat", and that July 2013 elections were "not the only option".
"The constitution says clearly that if both the president and vice-president step down the same time, the speaker [of parliament] takes charge... and can call an election within 60 days," she said.
She said that the people of Maldives must have a say as soon as possible, and that the MDP would keep pushing for early elections.