Chinese fisherman jailed for South Korea stabbing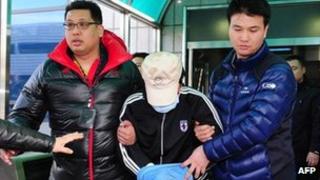 A Chinese fisherman has been sentenced to 30 years in jail for stabbing a South Korean coast guard to death in December 2011.
Cheng Dawei was also fined 20 million won ($17,540, £10,950) by a court in Incheon, South Korea.
The 43-year-old captain killed the officer and injured another after his boat was stopped in the Yellow Sea for illegal fishing.
The incident sparked an outcry in South Korean media and among the public.
Cheng denied stabbing the officers but South Korean authorities said they had ''firm evidence'', including his bloodstained clothes and weapons.
His crew members were also detained and charged with obstructing coast guard operations on board the vessel.
In the wake of the case South Korea has promised tough measures, including extra funding to boost the coast guards' operations in the Yellow Sea.
The sea inside South Korea's exclusive economic zone, between China and the West coast of the Korean peninsula, is rich in crabs and anchovies.
Chinese crews are regularly caught fishing in Korean waters. They are usually released after paying a fine.
About 475 Chinese ships were seized for illegal fishing in the Yellow Sea last year, up from 370 the year before, according to the coast guard.
But previous attempts to intercept Chinese fishing boats have also ended in violence. In 2008 another South Korean coast guard officer was killed in a fight with Chinese fishermen.
In October 2011, the coast guard said it had used tear gas and rubber bullets to subdue Chinese fishermen wielding clubs and shovels.