EU 'to suspend most Burma sanctions'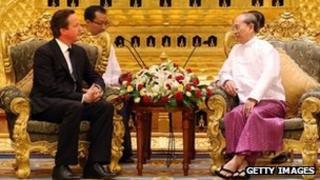 European diplomats are reported to have reached a preliminary agreement to suspend most European Union sanctions against Burma.
The final decision will be taken on Monday at a meeting of EU foreign ministers.
But senior sources in Brussels have told the BBC they expect that there will be agreement to suspend a "big chunk" of the current sanctions.
Only the arms embargo would stay in place, they said.
According to the sources, the travel ban and asset freeze for many government officials would end, reports the BBC's World Affairs correspondent Richard Galpin.
Aid and development money would be allowed into the country, as would investment into key parts of the economy - particularly the mining and logging sectors, our correspondent adds.
Exports from these industries would be allowed into the EU. There is also talk of establishing a preferential trade agreement with Burma.
Reform process
A process of reform has been under way in Burma since polls in November 2010 that brought a transition from military to nominally civilian rule.
The military-backed civilian government freed hundreds of political prisoners, including pro-democracy leader Aung San Suu Kyi.
Her NLD party - which boycotted the 2010 polls because of election laws it said were unfair - has now rejoined the political process.
Earlier this month, Aung San Suu Kyi was elected to parliament in a by-election which saw her party win 43 out of the 45 seats it contested.
The military-backed ruling party nonetheless retains a large majority in parliament, where 25% of all seats are also reserved for the military.
Thawing ties
By placing a time limit on the suspension, the EU is hoping to continue applying pressure for progress to be sustained, which could possibly include constitutional change.
Under current Burmese law Aung San Suu Kyi cannot become president because of her British husband.
The US and Australia have already eased some sanctions on Burma following the political reforms.
Japan, unlike the Western nations, did not impose tough sanctions on Burma, though it did stop offering new development loans in 2003 after Aung San Suu Kyi was detained for the third time.
It is now considering lending more money to Burma by end of fiscal year 2012, according to news agency Kyodo.
Burmese president Thein Sein is scheduled to make a five-day visit to Japan this weekend.