Dismantling US bases as the Taliban fight on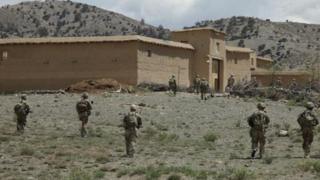 In a barren dust-bowl, in the eastern province of Paktika, an American base is disappearing back into the desert.
Combat Outpost Kushamond is the biggest base yet to close in Afghanistan. But it will not be handed to Afghan forces because they don't have the capacity to keep it running.
Huge armoured vehicles are loaded on to transporters. Some 70,000 vehicles will be shipped back to the States. The Afghans will be left with simpler, cheaper vehicles.
Many Afghan soldiers are now literate, though only to primary school level. But a school-child cannot read a mechanical engineering manual - so little equipment will be left behind.
Preparing a single MRAP, the heavily armoured Mine Resistant Armoured Protection vehicles used by international forces to protect themselves against Taliban roadside bombs, takes 90 days. There are thousands waiting to be returned.
The soldiers on the base have had to stop patrolling, so that they could concentrate on the dismantling.
The commanding officer, Captain Giles Wright, says they are still taking the fight to the Taliban.
"Here recently, we were able to take out a major Taliban command post…it's sad to see this key terrain go, however I'm confident we'll be just as effective, if not more so, once this is gone," he said.
Fractured partnership
But some officers are saying the exercise in removing these bases is a distraction. Others go even further and say you can't wage a war and wind it up at the same time, and that the mission here in Afghanistan, as it winds down, is now at odds with itself.
It has been a terrible few months for the Nato mission - the photographs of US soldiers posing with the corpses of suicide bombers is only the latest in a series of setbacks including the burning of copies of the Koran by US soldiers and the murder of Afghan civilians by a US soldier.
Each event created another fracture in the partnership.
Veteran commanders and diplomats say things have never been this bad. Western capitals have lost faith in President Karzai. Important agreements on night raids and detention facilities have been signed, but the underlying relationship is one of mistrust.
The Taliban attack on Kabul earlier this week was a reminder that, far from being defeated, the insurgents may be becoming more sophisticated - Nato didn't see this attack coming.
The war here started with a promise to make Afghanistan a better, safer, place. But as it enters its eleventh year, hope and ambition are on the wane.
Nato's senior civilian representative, Sir Simon Gass, emphasised that peace and security in Afghanistan are some way off.
"I don't think it will ever be possible... to ensure that Kabul is entirely safe. We've seen attacks of this sort before unfortunately in Kabul, and I expect that we will see similar attacks in the future," he said.
Further east in Paktika, near the border with Pakistan, the men of 2-28 Taskforce, from Combat Outpost Margah, head out on a patrol. The fight in Afghanistan is moving from the south of the country to the east, where the Taliban pour over the border from Pakistan.
The fight is becoming harder, even though attacks by the Taliban are down - that is because their company, and companies across Afghanistan, are already seeing their numbers reduced.
A third of American forces, some 30,000, will have left by September, followed by 500 British soldiers by the end of the year.
Afghans will take their place. In Brussels Nato, foreign and defence ministers are preparing for a Chicago conference next month which will likely secure funding for the Afghan security forces beyond 2014, when most foreign troops leave.
The UK has already committed $110m (£68m) to the cause, and the Afghan government will pay half a billion dollars. Other nations, principally the United States, will make up the rest. It's thought that $4.1bn (£2.5bn) can sustain Afghan security forces of 228,500 personnel.
Fading hope
But in Paktika, US officers say their partners are unlikely to be able to hold the area, and complain that the command between the Afghan police, army and intelligence service is fractured.
Platoon leader, Lieutenant Miller, listed the challenges facing the transfer of power.
"It's definitely a big task - look at what it's taken a coalition of modern military forces to accomplish. And then you have the Afghans, who aren't an army on their own, and do need a lot of help. I foresee they'll have a lot of issues with resupply and logistics. And it's going to be a matter of whether they decide this is something they want to keep up."
The soldiers take pride in being focused on the fight in front of them: taking care of the men to their left and right, and surviving another days' battle.
America has turned its back on this war, and these soldiers feel it, said Lieutenant Archangel Muscato.
"When I go back, people I hang out with, 18-24 year olds, they don't really ask me about the war. They don't really know, they might be even shocked that there is a war still going on. There's a disconnect in the States," he said.
Nato's plans for success in Afghanistan are based on hopes that will likely never become true: that, by the end of 2014, the Afghan government will be competent and credible, and the army ready.
And that a weakened Taliban will want to talk peace.
The war is about to become harder: foreign troops must battle the Taliban, reduce their own numbers, and train Afghans.
But the insurgents have to do one thing only - and that is to fight.