Nato helicopter crashes in Afghanistan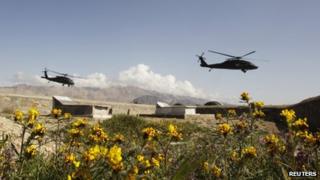 A Nato helicopter has crashed in south-western Afghanistan, with four people on board, according to a US defence official.
It is not clear whether anyone on board the Black Hawk helicopter has survived.
The official said that enemy action could not be ruled out, but initial indications were that the weather was to blame.
Those on board are believed to be American.
No British forces were involved, according to the UK Ministry of Defence.
Isaf military officials in Kabul have told the BBC that the crash site is secure and the cause is under investigation.
The crash occurred in what Nato terms the South West Region of Afghanistan, which includes the provinces of Nimruz and Helmand.
While helicopter crashes are relatively frequent in Afghanistan, it is unusual for them to be the result of enemy fire.
In March, 12 Turkish troops and two civilians were killed when a Turkish army helicopter crashed on a house in Kabul.
Six US troops were killed in a helicopter crash in Helmand in January.
Thirty Americans - mostly special forces - and six Afghans were killed in August 2011 when a Taliban rocket shot down a Chinook in eastern Afghanistan.