Burma leader Thein Sein in Japan to talk investment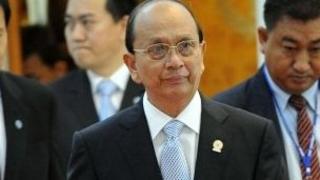 Burmese President Thein Sein is in Japan for a five-day visit expected to focus on financial aid and debt relief.
His visit, the first to Japan by a Burmese leader in 28 years, comes as EU nations prepare to ease sanctions. Japan may also resume loans to Burma.
Mr Sein has introduced reforms since coming to power in November 2010, ending decades of military rule.
Opposition MPs are to take their seats in parliament on Monday, but a row over the oath they swear could delay this.
Earlier this month, pro-democracy leader Aung San Suu Kyi's National League for Democracy party won 43 out of the 45 seats it contested in by-elections, with Ms Suu Kyi herself winning a seat.
But it now says it may boycott parliament because of the wording of the oath.
The military-backed nominally civilian government has freed political prisoners and made concessions that have brought the NLD back into the political process.
'Bold leap'
During his visit, Thein Sein will hold talks with Japanese leader Yoshihiko Noda. Officials say they will discuss a solution to Burma's debt to Japan, its biggest creditor.
This, reports the BBC's Roland Buerk in Tokyo, would open the way for Japan to resume financing much-needed infrastructure. Japanese companies are also keen to invest in Burma, which is rich in resources.
On Thursday diplomats in Brussels told the BBC they expected a "big chunk" of current EU sanctions against Burma to be suspended when foreign ministers met in Luxemburg on Monday.
According to the sources, the travel ban and asset freeze for many government officials would end. Only the arms embargo would stay in place, they said.
Aid and development money would be allowed into the country, as would investment into key parts of the economy.
The US and Australia have already eased some sanctions on Burma following the political reforms. On Thursday US Senator Jim Webb said the US should go further to reward Thein Sein's "bold leap" on reform.
"In all of these situations there's a moment in time you have to take advantage of," the senator told the Associated Press news agency. "We should have some protections in there, but we should move forward on trade."
Parliament is due to reconvene in Burma on Monday. Despite the recent poll victory of Ms Suu Kyi's party, it remains heavily dominated by the military-backed ruling party. A quarter of the seats are also reserved for the military.
The row over the oath threatens to overshadow moves on sanctions.
The NLD wants one word in the parliamentary oath changed. Rather than promising to "safeguard" the constitution, the NLD prefers simply to "respect" it.
The BBC's Rachel Harvey in Bangkok says it is a fundamental point of principle - the party has long maintained that the constitution, drawn up by the old military government, is undemocratic and should be changed.