Australia's Speaker steps down amid harassment claims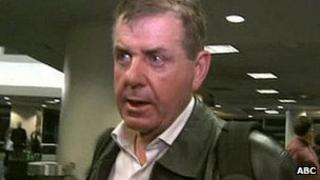 Australia's parliamentary Speaker has stepped down following claims of sexual harassment and fraud.
Peter Slipper is being sued by a former male colleague who says he received explicit text messages and unwanted sexual advances.
Mr Slipper is also being investigated by police over claims that he misused public-funded taxi services.
He denies all the allegations but says he is standing aside pending the outcome of the police investigation.
Correspondents say the case has the potential to damage Prime Minister Julia Gillard's fragile government.
Former parliamentary staff member James Ashby, who is openly gay, has launched legal action against Mr Slipper over alleged sexual harassment.
Mr Slipper, who is married, arrived back in Australia from an overseas trip and released a statement "emphatically" denying the allegations.
"The allegations include both a claim of criminal behaviour and a claim under civil law," he said.
"As such, I believe it is appropriate for me to stand aside as Speaker while this criminal allegation is resolved.
"Once it is clear they are untrue I shall return to the Speakership. In relation to the civil matter, there will be an appropriate process that will resolve the matter in due course."
Mr Slipper, 62, will be temporarily replaced by his deputy, Labor MP Anna Burke.
Mr Slipper defected from the opposition Liberal Party to become Speaker in November 2011.
His support for the government as an independent has given Ms Gillard a wafer-thin parliamentary majority.
If he is forced to resign his seat, it could leave the government vulnerable to a vote of no-confidence.