Strike turns violent in Bangladeshi town of Sylhet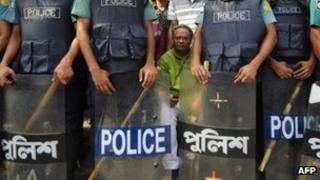 One person has been killed and at least 20 injured as thousands of people protested over a politician's disappearance in the Bangladeshi city of Sylhet, police have said.
Protesters armed with sticks and stones stormed a police station and vandalised government offices, police say.
Demonstrators are angry at the disappearance of opposition leader Ilias Ali.
The violence comes during a general strike called by the opposition.
Mr Ali's car was found abandoned in the capital, Dhaka, on Tuesday night.
Correspondents say that Mr Ali, a regional head of the opposition Bangladesh Nationalist Party (BNP), is the highest profile opposition politician to have "disappeared" since Prime Minister Sheikh Hasina's Awami League party assumed power in January 2009.
Police say they are still investigating the case - one of numerous disappearances to have taken place in the country over the past year.
The opposition blames the government - specifically the elite Rapid Action Battalion - for Mr Ali's disappearance, but they and the government deny any involvement.
Schools and businesses across the country have been affected by the opposition-led general strike. The worst of the violence however has been in Sylhet, 190km (120 miles) north-east of Dhaka, where Mr Ali lived.
Monday's violence began when a mob tried to storm the police station in Sylhet, police say.
"There were more than 10,000 protesters. They attacked policemen and tried to besiege a police station. We've fired rubber bullets and tear gas shells to disperse them," Sylhet police chief Shakhawat Hossain told AFP news agency.
Mr Hossain said that one man was killed and more than 20 police officers were injured in the clashes, at least four of them seriously.
Correspondents say that Mr Ali's disappearance has added further pressure to Bangladesh's fragile parliamentary democracy, which has been marred by a series of military coups since its independence from Pakistan in 1971.
The BNP-led general strike began on Sunday and has been extended to Monday and Tuesday.
Police say that in a separate development, senior BNP figure Selima Rahman was detained in Dhaka on Monday as she and other members of the party tried to lead a demonstration.