Communist rebels kill 10 soldiers in the Philippines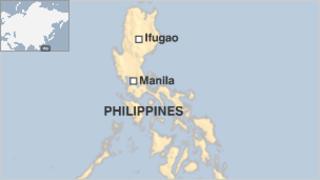 At least 10 Philippine soldiers have been killed in an ambush by communist rebels in the north of the country, officials say.
The New People's Army (NPA) ambushed an army convoy in a remote village in Ifugao province, north of Luzon Island, according to the military and police.
At least one civilian is also said to have died in the incident.
The Communist Party of the Philippines (CPP) and its NPA armed wing have been fighting the government since 1969.
"This is considered one of the most daring attacks by the NPA in this area in recent years," military spokesman Colonel Loreto Maguddayao was quoted by Agence-France Presse news agency as saying.
The NPA, one of Asia's longest-running insurgencies, concentrates its campaign in rural areas and in small-scale skirmishes with the military, according to the BBC's Kate McGeown.
Peace talks between the Philippine government and communist rebels have taken place sporadically over the years, but they have been stalled since 2011.
As of late last year, there were estimated to be about 4,700 NPA rebels who continued to fight, mainly in the poorest areas of the Philippines.
The group is listed on the Foreign Terrorist Organisation list of the US State Department.