Cricket, schools, Facebook: the Taliban's new PR drive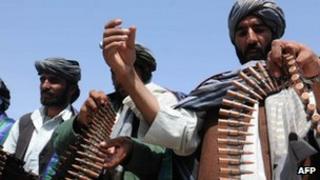 From civilian casualties, to girls' schools, to cricket, the Taliban website's new question and answer section provides answers to a wide range of readers' questions. The BBC World Service's Dawood Azami examines the Taliban's latest propaganda offensive.
The Taliban's newly-launched question and answer section on their website is not only attracting more traffic, but is also becoming a new tool for the insurgents' concerted PR drive.
They launched their Q&A section in mid-February 2012 and the questions have been pouring in since then, covering issues ranging from peace talks to sport.
The aim of the facility on the Voice of Jihad (the official website of the Islamic Emirate of Afghanistan - the Taliban's own name for their movement) is to win over Afghans by directly addressing individuals who ask them questions - and hence those who may have similar concerns.
The page, entitled, "Your questions and Zabihullah Mujahid's answers", invites readers from all over the world to leave questions.
So far, more than 120 questions have been answered online by the main Taliban spokesman, Zabihullah Mujahid, who regularly sends journalists statements via email and SMS.
Zabihullah Mujahid is widely assumed to be more than one person operating behind a fake name.
But the answers on the Q&A forum have a consistent linguistic style and appear to be written by one person.
In an answer to one question, he reveals himself to be married and middle-aged, but he refrains from revealing his home province ''for security reasons''.
Another person wishes to see him. He says that if he is alive when Afghanistan is secure, he will show his face to the whole nation.
Most questions appear to be asked by readers from different places inside Afghanistan and Pakistan. While most are in Pashto, some are in Dari, with a few asked in English from the Afghan diaspora in Europe and elsewhere.
Taliban hacked
The launch of the Q&A section demonstrates how sophisticated the Taliban has become in using modern technology to win hearts and minds.
The Taliban have made extensive use of the internet to spread their message. Their website has been live for several years, and now offers tri-media materials such as video, audio and text content.
But the interactivity provided by the Q&A section is part of the Taliban's latest propaganda approach. They have also embraced social media, and even have Facebook and Twitter accounts.
Zabihullah Mujahid tells another questioner that the group keeps a close eye on Facebook and YouTube, and scours the media for reports about them. "We react to them in the light of the Islamic Emirate's policies and our position," he wrote.
Many of the inquiries appear to come from Taliban supporters, some of whom praise their mission.
A number of their own fighters and supporters have criticised their policy of engaging in talks with the US, saying that this has created uncertainty about the goals of their mission.
The Taliban spokesman urges his comrades to remain steadfast in their objectives, adding that the Taliban leadership will not forget the sacrifices they all have made and will not make a deal which will undermine their ideals.
But the website also has its opponents and it has been hacked several times, with hackers posting messages condemning Taliban acts of violence and publishing pictures, such as images of women being stoned.
In the most recent attack on Thursday hackers posted messages and photos in Pashto and English attacking the group. The Taliban says its website was also hacked in 2011.
Despite the online "charm offensive" being devised by the Taliban, there are many determined to highlight their darkest side.
Challenging questions
Some questions are critical, such as those about civilian casualties caused by the Taliban, their alleged closeness to elements in the Pakistani establishment, and Afghan children who have been prevented from getting an education.
One poster giving his name as Haseeb-ur-Rahman asked: "Don't you think that killing all these people in suicide and bomb attacks every day is a big sin?"
The spokesman replied that the Taliban's fighters have been issued with clear instructions to avoid civilian casualties at all costs. If there are any, ''they are not deliberate".
Many people reading this will find that claim hard to believe.
Civilians have borne the brunt of Afghanistan's conflict and, according to the UN and figures given by human rights groups, most of them have died at the hands of the militants in years of bombings and attacks. Many others have been killed in military operations by Afghan or Nato forces.
The Taliban always deny that civilian casualty figures in their attacks are higher than those inflicted by Afghan and Nato forces.
Someone questioned the legitimacy of carrying out suicide attacks in mosques, where copies of the Koran have also been damaged. The response is a claim that the Taliban ''have not carried out attacks in mosques'', and that the damage to the copies of the Koran was ''not deliberate''.
The Taliban banned girls from school during their rule between 1996 and 2001. Madiha Khalid from Germany asked ''would girls have the opportunity to get education if the Taliban came back to power?''
Zabihullah Mujahid blamed a lack of funds to ensure girls' schools were run according to Islamic tenets. "We want to prepare ground for our mothers and sisters to have Islamic education in an Islamic environment," he said.
These questions target some of the key concerns for Afghans about the Taliban's ideology - whether or not their answers are acceptable or even believed are an entirely different matter.
It appears as if only a select set of questions are answered on this new forum. In some cases, some parts of questions are left unanswered, such as a part of a question which asks the Taliban ''why don't they fight against Pakistan?''
Another questioner has challenged the Taliban spokesman, saying ''you publish only those questions that serve your interest".
''We naturally refrain from publishing those questions that are against the territorial integrity, unity and national interest, or create sensitivities, enhance differences, or are against our religious values," was the answer.
The new facility on the website has other practical uses for the Taliban. Some potential volunteers asked how to join their ranks.
A few asked how to contribute articles to the Taliban website.
''We need every committed and Muslim writer," said Zabihullah Mujahid.
''Please email us your scholarly and political writings while keeping in mind the Islamic principles, national unity and freedom of the country."
Cricket fans
This Q&A facility gives the Taliban a personality and helps them to become more visible to the public in a virtual world.
A couple of readers submitted questions about sport. One suggested that the Taliban should include sports news on their website, which mostly contains reports about violence.
Zabihullah Mujahid replied that ''they will consider this suggestion and will pass this message on to those who are responsible for the website".
While pointing to the successes made by the Afghan cricket team, another questioner asked: "How would the Taliban see the National Cricket Team?''
''We support all those sports that are good for health and have a noble purpose," the spokesman replied. ''You and other sports fans should be made aware of that fact that cricket was made official by the Taliban when they were in power.''
The Q&A section showcases their increasing confidence and the intensity of their media campaign.
But as Thursday's hacking attack reveals their growing online profile has also attracted the attention of its opponents - and this is unlikely to subside.