Indonesia bans some US beef imports after mad cow case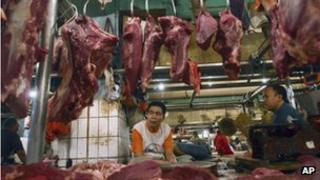 Indonesia has suspended some US beef imports following the discovery of a case of "mad cow" disease in the US.
Imports of bone meal, innards and boned meat have been put on hold although boneless meat will still be allowed.
Other major US beef buyers, including South Korea, Japan, Canada and the European Union, have not halted US beef imports.
However, two major retailers in South Korea announced on Wednesday that they were suspending US beef sales.
US Trade Representative Ron Kirk has urged Indonesia to lift the ban, saying that there is no evidence that the US food chain has been tainted.
"There is no reason for any consumer to be concerned about the consumption of US beef," he said.
"We would expect that Indonesia would quickly reopen its market for US beef products."
Indonesia's deputy agriculture minister Rusman Heriawan told reporters: "We will lift the ban as soon as the US can assure us its dairy cows are free of mad cow disease."
Indonesia had been trying to reduce its beef imports even before the news of the infection, in an attempt to reduce its dependency on other countries.
South Korean retailers Lotte Mart and Home Plus temporarily suspended sales of US beef on Wednesday.
However, Home Plus, which is a subsidiary of UK firm Tesco, resumed sales on Wednesday night, news agency AFP reported.
The case of "mad cow" disease announced on Tuesday in California is the fourth in the US so far, and the first since 2006.
The disease's proper name is bovine spongiform encephalopathy (BSE) and its first outbreak hit the US in 2003.
BSE is always fatal in cattle, and research suggests humans can contract a similar deadly brain disease, vCJD, by eating meat from infected animals.
Although infected meat is no longer widely viewed as a risk, there has been continuing concern in the UK over human-to-human transmission through blood transfusions.