China's Panchen Lama makes rare speech in Hong Kong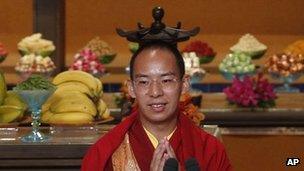 The man chosen by China to be Tibet's second highest spiritual leader has made his first appearance outside the Chinese mainland.
The Panchen Lama spoke at a Buddhist conference in Hong Kong criticising the value placed on materialistic technology.
Gyaltsen Norbu, 22, was chosen by Beijing as the reincarnation of the Panchen Lama when he was six.
But he is not recognised by followers of the Dalai Lama who lives in exile.
The Dalai Lama's own choice of who should be the Panchen Lama was rejected by China and that boy has not been seen since.
During his speech in Hong Kong, the Panchen Lama said external science was valued above the inner sciences, "the sins spread and (spiritual) corruption becomes rampant. The body loses balance and the environment is tainted".
He added that greed had "unbalanced the ecosystems, contaminated the environments, caused natural disasters, spread epidemics, induced wars and hence endangered all sentient beings now and in future".
Thubten Samphel, a former spokesman for the Tibet government-in-exile in Dharamsala in India, told the AP news agency: "We feel that China is trying to find a platform for him to be accepted by the larger community, which will not happen, I think."
Over the past year more than 30 Tibetans have set themselves on fire in protest at what they say is harsh repression of their rights and culture.
Four years ago, there were violent riots in Tibet's main city, Lhasa, which were followed by a security crackdown by the Chinese government.
Related Internet Links
The BBC is not responsible for the content of external sites.