US soldier shot dead in Afghanistan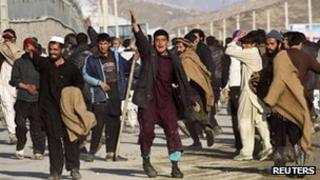 A US soldier in Afghanistan has been shot dead by a man wearing an Afghan army uniform, officials say.
The incident happened on Wednesday in the south of the country, Nato-led Isaf forces said in a statement.
The attacker was killed when coalition forces returned fire, it said
It is the latest in a series of similar attacks that have killed 18 foreign soldiers in 11 separate incidents so far this year.
The Isaf statement added that the shooting was being jointly investigated by the US forces in Afghanistan and the Afghan authorities.
A US official said the foreign soldier was an American.
Correspondents say there have been a growing number of incidents in which Afghan soldiers have turned their weapons on international troops.
Only Taliban bombs have caused more foreign soldiers' deaths, the BBC's Quentin Sommerville reports from Kabul.
Isaf forces are training their Afghan counterparts in preparation for a full handover of responsibility for security by 2014.
Revelations in February that US troops burned copies of the Koran at a base in Afghanistan - reportedly by accident - as well as the shooting of 16 Afghans by a US soldier last month have inflamed public opinion against the foreign forces.
In late March, two British soldiers were shot dead by an Afghan army soldier in southern Helmand province.