Pakistan PM Gilani refuses to quit after guilty verdict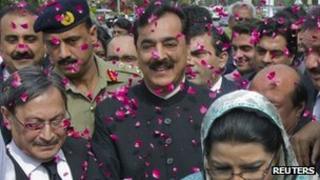 Pakistani Prime Minister Yousuf Raza Gilani has refused to resign after he was found guilty of contempt of court.
A defiant Mr Gilani told MPs: "Except for you no-one can disqualify me."
On Thursday, the Supreme Court convicted him of failing to pursue corruption charges against President Asif Ali Zardari.
But Mr Gilani, who had argued the president has constitutional immunity from prosecution, was given only a token sentence and spared a jail term.
Judges sentenced him to a few minutes' detention in the courtroom - some witnesses say it was only about 30 seconds - in what was seen as a symbolic ruling.
'Scruples'
Opposition politicians have been urging the resignation of Mr Gilani, who had previously conceded he would have to step down if found guilty.
But the prime minister - who is appealing against his conviction - faced down those calls on Friday, telling MPs he would resign only "if you de-notify me".
"This is the parliament," he said. "It cannot be that an elected chosen representative, a prime minister unanimously elected by 180m people, is told to just go home.
"Only the Speaker of the house... has the authority to decide."
Mr Gilani challenged the opposition to table a motion of no-confidence in him "if they think they have principles and scruples and high moral grounds".
"I have not committed a crime, I have done nothing wrong but I have protected the constitution of this country," he added.
Correspondents say Mr Gilani's standing among Pakistanis has been boosted by his refusal to bow to the Supreme Court judges, whose pursuit of the contempt case was seen by many as meddling in the country's politics.
It is unlikely the opposition would have the numbers to unseat the prime minister.
'Bribes'
The case is part of a stand-off between the civilian government and the judiciary, which many believe is being backed by the military.
President Zardari has long said the charges against him are politically motivated. They date back to the 1990s when his late wife Benazir Bhutto was prime minister.
The couple were accused of using Swiss bank accounts to launder bribe money.
The Supreme Court ordered Mr Gilani's government to write to the Swiss authorities to ask them to reopen the cases against Mr Zardari.
But Mr Gilani refused, saying the case had been closed by a Swiss judge "on merit" and the president had constitutional immunity.
General elections are due by early next year.