Japan's PM Yoshihiko Noda visiting the US to boost ties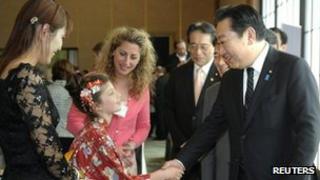 Japanese Prime Minister Yoshihiko Noda is meeting United States President Barack Obama in Washington to boost the alliance between the two countries.
His visit comes amid tension over North Korea's recent rocket launch and just days after both nations announced a new deal over US troops in Okinawa - a controversial issue between the allies.
Under the agreement, the US will move some 9,000 Marines out of Japan.
The two countries would also consider setting up joint training bases.
The first permanent joint bases could be established in Guam or the nearby Northern Mariana Islands.
This would mean an expansion of Tokyo's role in regional security and be hugely symbolic for Japan, which has been in a pacifist role since the end of World War II, analysts say.
"I would like to exchange views candidly on the vision of a future US-Japan alliance,'' Mr Noda told reporters before leaving Tokyo.
''I want the meeting to be fruitful so that the public can see clear results," he said.
Both nations are showing that their relationship is getting back on track, says the BBC's Roland Buerk in Tokyo.
Mr Noda and Mr Obama are expected to discuss North Korea's failed rocket launch on 13 April and expectations that it may soon carry out a third nuclear test.
They will also address Japan's interest in joining the Trans Pacific Partnership (TPP), which aims to create a free trade zone across the Pacific.
At the Asia-Pacific Economic Co-operation (Apec) talks in November last year, Mr Obama had expressed hopes that the TPP trade deal could be finalised this year.
Mr Noda's is facing strong opposition from Japan's farmers over the TPP.
Power shift
Both the US and Japan recognise that the balance of power in Asia is shifting, with the rise of China and concerns over North Korea, says our correspondent.
Also on the agenda for the two leaders are reforms in Burma and Iran's nuclear programme.
This month, Japan agreed to write off more than $3.7bn (£2.29bn) of debt owed by Burma and to resume development aid, following a landmark visit to Tokyo by Burmese President Thein Sein.
Last month, the US government said it would not impose sanctions on Japan and 10 European Union nations that have reduced their oil imports from Iran.
This meant that Japan, the second biggest importer of Iranian oil after China, may continue buying some oil from Iran without exposing its banks to penalties. Japan has cut its purchases from Iran by an estimated 15-22% in the second half of last year, and has promised to do more.
Apart from meeting Mr Obama at the White House, Mr Noda will also attend a gala dinner hosted by US Secretary of State Hillary Clinton during his three-day visit.
On Sunday, Mr Noda met guests, including volunteers who helped during the earthquake and tsunami crisis in Japan last year, at the Japanese ambassador's residence in Washington.