South Korea arrests Chinese sailors in the Yellow Sea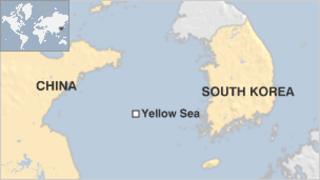 South Korea has arrested nine Chinese sailors after officials were injured when they boarded a ship suspected of illegal fishing in the Yellow Sea.
Four South Koreans were injured in a fight involving Chinese sailors armed with clubs and knives, South Korea's coast guard says.
The 227-ton vessel was spotted near Heuksan island, 72km (44.7 miles) north-west of South Jeolla province.
There have been several confrontations over illegal fishing in the Yellow Sea.
The South Korean coast guard said it rescued one official who fell overboard. Three others sustained injuries while on board, according to officials.
"The Chinese sailors were seized while trying to escape. They are being taken to our base," a spokesman from the coast guard told news agency Agence-France Presse.
This incident comes just over a week after the sentencing of a Chinese fisherman who killed a South Korean coast guard in December 2011.
On 19 April, Chinese fisherman Cheng Dawei was sentenced to 30 years in jail for stabbing a South Korean coast guard to death. His boat had been stopped in the Yellow Sea for illegal fishing.
About 475 Chinese ships were seized for illegal fishing in the Yellow Sea last year, up from 370 the year before, according to the coast guard.
The sea inside South Korea's exclusive economic zone, between China and the West coast of the Korean peninsula, is rich in crabs and anchovies.
The Chinese fishermen regularly caught in the area are usually released after paying a fine.
But previous attempts to intercept Chinese fishing boats have also ended in violence. In 2008, another South Korean coast guard officer was killed in a fight with Chinese fishermen.
In October 2011, the coast guard said it had used tear gas and rubber bullets to subdue Chinese fishermen wielding clubs and shovels.