Residents flee Pakistan Karachi 'war zone'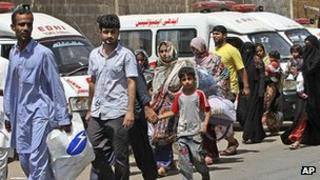 Hundreds of families have begun fleeing a district in the Pakistani city of Karachi as a stand-off between police and gunmen enters its fourth day.
Frightened residents in the densely populated neighbourhood of Lyari said they have been without food, water and electricity.
Officials say their security operation is aimed at clearing the area of drug dealers and criminal gangs.
Twenty-two people have been killed in fighting in Lyari alone over four days.
Three people were killed in gunfire near the area on Monday.
Officials say the dead are all either civilians or policemen. Many have been killed in the crossfire between police and gunmen.
The area has been described in the Pakistani media as a "war zone".
Police say they want to "clear the area" because Lyari - one of the oldest parts of Karachi - has inordinately high levels of crime.
The BBC's Syed Shoaib Hasan in Karachi says that gunfire is echoing across Lyari as police commandos fight their way into the heart of the area.
Armoured personnel carriers are providing backup - although one of these has been hit and damaged.
Supt Mohammad Aslam Khan - who is leading the operation - told the BBC that the gunmen have a stockpile of sophisticated arms including rocket launchers and grenades.
Despite this, Supt Khan said police had cleared 70% of the area controlled by the gunmen.
He said it had been a "tough fight" but insisted "the worst was over".
However, local citizens say the fighting is still intense and a siege still exists in the neighbourhood.
Karachi has long suffered outbreaks of violence, either carried out by the Taliban, criminal elements or because of turf wars between rival political groups.
At least 800 people died in politically motivated attacks in the city last year. About 300 people have been killed so far in 2012.
Police say that while there is no suggestion of Taliban involvement in the latest violence, there are reports that Baloch separatists are among the gunmen in Lyari.
Local people argue that the operation is specially targeted against the majority Baloch community - and the government is deliberately avoiding actions against gangs from other communities because they enjoy patronage from powerful politicians.
The BBC's Hasan Kazmi in Karachi says that the provincial government ordered the police operation in the Lyari area after businessmen and local traders complained of high levels of extortion and kidnappings.