N Korea's 'provocations must end', warn US and Japan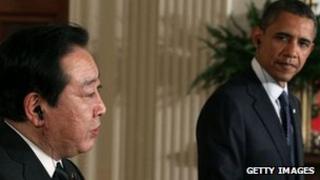 US President Barack Obama and Japanese Prime Minister Yoshihiko Noda have warned North Korea that its "old pattern of provocation" is over.
Mr Obama said North Korea's recent actions, including its failed rocket launch, would "only serve to deepen Pyongyang's isolation".
Mr Noda said there was "a great possibility" that Pyongyang would carry out its first nuclear test since 2009.
The two leaders were speaking at a news conference after talks in Washington.
"The old pattern of provocation that then gets attention and somehow insists on the world purchasing good behaviour from them, that pattern is broken," Mr Obama said on Monday.
He stressed that Washington along with its ally Japan were united that Pyongyang must "abide by international norms, that they will not be able to purchase anything from further provocative acts".
Tension on the Korean peninsula remains high following Pyongyang's failed rocket launch over the Yellow Sea on 13 April.
Pyongyang said at the time it was putting a satellite into orbit but critics said the launch was a disguised test of missile technology banned under UN resolutions.
Standing next to Mr Obama at the White House East Room, Mr Noda said that "there is a great possibility that they (North Koreans) will conduct a nuclear test".
He pointed out that the communist regime carried out its last nuclear test in 2009 amid the uproar over its missile tests earlier that year.
Last week, South Korea also said there were signs that North Korea was planning a nuclear test.
North Korea had almost completed preparations for the test which will take place ''soon'', an unidentified source told Reuters.
This source, the news agency said, has correctly predicted past events, including North Korea's first nuclear test in 2006.
North Korea has not publicly commented on the claims.