South Korea rebrands 'scariest place on Earth'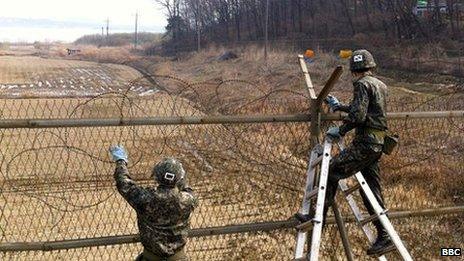 As tourist sites go, the frontier between North and South Korea offers more than the usual souvenir T-shirt - though it sells those, too.
A living piece of the Cold War, the so-called Demilitarized Zone (DMZ) is guarded by a million soldiers and another million landmines ranged along the 248km (154.1 mile) strip.
This is the place former US President Bill Clinton called "the scariest place on Earth" - and the place South Korea has now decided to create its new eco-tourism zone.
Not that the DMZ has trouble attracting tourists.
About 6.5 million visitors come every year to peer through binoculars into secretive North Korea. They step into the infiltration tunnels and have their photographs taken in front of the war-time monuments and relics.
"I think the people who come here [are] those who have a heart for the North Korean people, because it's as close as they can get," said Steven Felker, a minister with Christ Chapel in New York.
"Other people [come here because] this is the closest you can get safely to an active militarised zone, and they're just curious about the adrenaline rush."
But South Korea's government is not happy with the image of the DMZ as a place of war and tension. It is hoping to rebrand the area around it as the "PLZ", or the "Peace and Life Zone".
"Up to now," said Park Meeja, director of Nature Policy at the Environment Ministry, "the DMZ [area] has been a place of restriction and high security."
"But by turning this into an eco-tourism zone, I think it will change how people see it. Rather than come to see the world's last divided country, in future we hope that more people will come here to experience the wildlife."
It is not as implausible as it sounds. The armistice agreement at the end of the Korean War 60 years ago created a buffer zone - 2km on either side of the ceasefire line - from which military equipment and personnel were banned.
Beyond that is a further 8km strip to which public access has been tightly restricted.
Environmentalists say that has created a pristine nature reserve, with thousands of species including rare cranes and Korean flying squirrels.
The Environment Ministry plan will create trails through the area to allow tourists access.
But even conflicts from 60 years ago are not always easy to forget. Hidden in farmland, off a motorway near the frontier, is a site the tour buses do not stop at.
Hundreds of white sticks, planted in neat rows, glint beside small mounds of earth - the graves of North Korean and Chinese soldiers killed during the Korean War.
The most recent interment took place here just last year. Remains like these are being unearthed by the South Korean army all the time.
And there are other reminders too, of course, that the war those soldiers fought has never formally ended. North and South Korea are bound by an uneasy truce, not a peace deal.
North Korea has sent shells and spies to the South on several occasions since then.
And both sides carry out regular, large-scale military exercises.
Revising the reminders of conflict here is one thing, but the military tensions themselves are stubbornly hard to erase.