Clinton set for China talks amid activist escape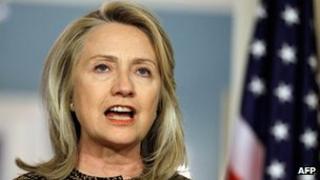 US Secretary of State Hillary Clinton has arrived in China, where the escape of a Chinese activist threatens to overshadow key talks.
Mrs Clinton will lead the US team at an annual meeting with China that aims to cement relations and discuss security and economic issues.
She has not commented on the escape of Chen Guangcheng, who is believed to be at the US embassy in Beijing.
But China's state-run media has mentioned the case for the first time.
In an editorial, the Global Times newspaper said that "petitioners" seeking outside help was "not only embarrassing to China but also puts the US in an awkward position".
It said Mr Chen's case "will not affect Sino-US relations". Talks between the two countries are "unlikely to dwell on him", according to the newspaper.
"Quite a few out-of-favour Chinese people have sought to exaggerate their influence by relying on overseas powers," it said.
"But this is a poor idea. The time when foreign governments could guide Chinese authorities in making policy is long gone."
Since Mr Chen's escape, his name and other related terms - including US embassy and Linyi, Mr Chen's city - have been heavily censored on the internet.
House arrest
Mr Chen was placed under house arrest in Shandong province in 2010 after spending more than four years in jail for disrupting traffic and damaging property.
The activist, who has been blind since childhood, has long been a high-profile figure.
He campaigned against forced late-term abortions and sterilisations carried out in Linyi city, Shandong province, as local officials enforced China's one-child policy.
International rights groups have frequently expressed alarm at the treatment of him and his family.
He escaped from house arrest late last month. US and Chinese officials are thought to be in talks on his fate but there has been no official confirmation.
Mrs Clinton and US President Barack Obama have both declined to comment on Mr Chen's case.
Mr Obama told a news conference that he was "aware of press reports" on the issue, but would not make a statement on it.
For her part, Mrs Clinton said that she would discuss rights issues with Chinese officials.
"A constructive relationship includes talking very frankly about those areas where we do not agree, including human rights," Mrs Clinton said on Monday, before leaving for China.
"That is the spirit that is guiding me as I take off for Beijing tonight. And I can certainly guarantee that we will be discussing every matter, including human rights, that is pending between us."
US Treasury Secretary Timothy Geithner will also be present during the US-China Strategic and Economic Dialogue with senior Chinese officials on Thursday and Friday.
Both countries will want to discuss Iran, Syria, North Korea and trade, but as of now, all anyone is interested in are the whereabouts and the fate of Mr Chen, says the BBC's Adam Brookes in Washington.