Chinese activist Chen Guangcheng's uncertain future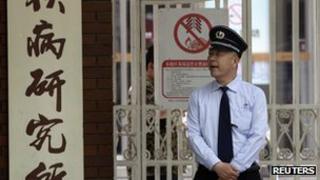 The fate of blind Chinese activist Chen Guangcheng remains unresolved as he waits in a hospital bed for news from the Chinese authorities.
The 40-year-old has been told he can apply to leave the country but the Chinese officials who now control him have not told him when that process will begin.
He lies in bed worrying about his relatives who remain in the village in Shandong that he fled in dramatic fashion more than two weeks ago.
He told the BBC that the security guards that were in his home have now left but are still on watch in the village of Dongshigu.
Meanwhile, Mr Chen's friends and supporters are being prevented from seeing him, he said. Some face their own pressure from the authorities.
Chen Guangcheng spent six days in the US embassy in Beijing after fleeing house arrest. He emerged from US protection last Wednesday.
He was taken to Chaoyang Hospital in Beijing, where he quickly changed his mind about staying in China. He thought he was not safe and wanted to leave, with his family, for America.
When the BBC spoke to Mr Chen by telephone last Thursday he sounded shaken and concerned. He believed the Chinese government had gone back on an agreement to guarantee his safety in China.
Threats
On Monday, he sounded more relaxed, although he is still unsure about when - or even if - he will be able to leave China.
He has asked Chinese officials to help him begin the process of getting a passport for him, his wife and two children, but has not heard back from them.
"I've raised my request with the Chinese side. I hope they will help me," he said.
"I wouldn't say that I'm excited. I just want to wait and see how things develop," added the activist, whose foot is in plaster after he broke three bones in it during his escape from Dongshigu.
China has indicated he can leave the country to study, but Mr Chen is still at the mercy of officials, who control access to the patient.
"I lie in bed all day. I'm just able to go to the toilet with the help of crutches," he said in a brief telephone conversation.
US diplomats have spoken to him on the telephone, but Mr Chen said they had not been to visit him, although his wife has met them.
Mr Chen said he was worried about his relatives - his mother, brother, sister-in-law and cousins - who are still in Dongshigu.
"They are not in danger right now but they're being threatened," he said.
The activist's nephew, Chen Kegui, is believed to be in police custody after grabbing two knives when a gang of people broke into his home.
Mr Chen friends and supporters are also being watched closely by the authorities.
'Like Hollywood'
When he escaped home detention he was met by He Peirong, who drove Mr Chen from Shandong province to Beijing before heading back to Nanjing, where she lives, by high-speed train.
She told the BBC that she was picked up by the police and taken to a hotel, where she spent seven days.
She could not leave and was constantly watched, although she described her guards' attitude as "very polite".
Ms He said she did not tell the police anything about her part in the escape of Chen Guangcheng - which she described as something like the prison break in the Hollywood film, The Shawshank Redemption.
"I'm pretty safe right now. I'm not allowed to talk to media, but I have been accepting their interviews," she said.
Ms He added that the authorities had told her she would not be welcome in Beijing or Shandong province before the Communist Party's 18th Congress, scheduled for later this year.
The party will reshuffle its top leaders at the meeting.
Another one of Mr Chen's friends, Teng Biao, is also under pressure from the authorities.
"I am not allowed to talk to the foreign media. I cannot take interviews," he said on Monday.
Many in the US think Chen Guangcheng will soon be allowed to go to America to study but he is not there yet.