Should stillborn babies be given birth certificates?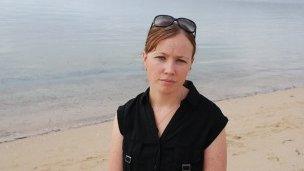 Politicians in Australia have been debating whether to change the law regarding the issuing of birth certificates to babies who are stillborn.
At the moment, birth certificates can only be given if the baby is at least 20 weeks old. But campaigners, led by one woman who lost her own child, believe it should be reduced to 12 weeks.
That woman is Tarlia Bartsch. She was just under five months pregnant when, late last year, she noticed her baby had stopped moving inside her.
When she went for an ultrasound test, the doctor told her the baby had no heartbeat.
"It was devastating," she said. "I had been aching to hold my baby, but I was going to go home empty-armed."
The next day Tarlia and her husband Lukas had to return to hospital to have her stillborn baby induced.
Her labour lasted eight hours. Then for five hours the couple held their lifeless son, who they decided to name Jayden. They said they couldn't bear to let him go.
After leaving hospital, Tarlia went to see her doctor.
"I wanted a birth certificate," she said. "Just like I have for my other son, Marco".
But her doctor explained that because Jayden had been born at 19 weeks, the law stated there could be no birth certificate.
In medical and legal terms, a loss before 20 weeks is regarded as a miscarriage, with no scope for a birth certificate.
"It was heartbreaking," said Tarlia. "Jayden was important to us, he was special."
"I just wanted a birth certificate to remember him by. Not having one compounded my pain. Without a birth certificate, he didn't exist. How could that be allowed"?
Tarlia took to Facebook and poured out her feelings. Within a few weeks more than 2,300 people, mostly women, had signed up to her online petition calling for change.
That prompted Tarlia to try to get the law modified.
She contacted the Family First party in South Australia's parliament and her case was taken up by Upper House member Robert Brokenshire.
He put forward an amendment to the Birth, Deaths and Marriages Act, proposing the limit be set at 12 rather than 20 weeks.
"It's fair and reasonable that the mother, father and any other siblings have a right to legal recognition of the stillbirth via a birth certificate for their infant," Mr Brokenshire argued.
The campaign won the support of former the Premier of New South Wales, Christina Kineally, who is the patron of the Stillbirth Foundation of Australia.
Mrs Kineally, who has two sons, had a daughter Caroline who was stillborn just shy of 20 weeks.
"The law has not kept up with medical and social practises," Mrs Kineally said. "It is a hole for me, in our lives, that her life hasn't been recognised with a birth certificate."
For Tarlia Bartsch, 12 weeks is an appropriate re-drawing of the limits.
It not only marks the end of the first trimester but, as Tarlia points out, after that point - when labour rather than a curette procedure is accepted practice - the pain and process are the same as giving birth.
But while Tarlia views the issue as a matter of simple compassion, others see the changes as an attack on abortion rights, with both going to the issue of when life begins.
"Changing the law on birth certificates might be seen as another subtle push by the anti-abortion movement to opening the door for harsher abortion laws," said Tony O'Gorman, chairman of Australia's Council For Civil Liberties.
Mr O'Gorman says anti-abortionists adopt a number of '"strategies" and this might be one of them which, he says, would be "unwelcome".
He says any changes in the birth certificate law should be wholly voluntary for parents and clearly designated as being legally different to other births which are closer to viability.
Margaret Kirkby, from the Womens Abortion Action Campaign, is equally opposed to changing the birth certificate laws.
"It's a slippery slope", she said. "It wouldn't take much of a leap to go from issuing birth certificates at 12 weeks to limiting abortions after 12 weeks, as a 'birth' certificate implies babies are viable if born at 12 weeks."
"That would be wrong as it would severely inhibit a woman's right to choose if she has a termination, or not".
Tarlia Bartsch sees it differently. "It has to be a matter of choice for parents, and the law I want to change is completely different to the abortion laws," she said.
There are other movements around the world also pushing for changes to birth certificate rules.
In Britain, for example, where the cut-off period is 24 weeks, the ' I Have Rights, Too' group supports the Australian efforts.
It wants birth certificates to be allowed for stillbirths between 12 and 42 weeks.
There are similar groups at work in the United States.
At Tarlia's home in Port Lincoln, the dinner table is scattered with items that prove Jayden did exist.
There are two white teddy bears, a blue certificate with his name on from the stillbirth support group, SANDS, and a small card. On it are the tiny imprints of Jayden's hands and feet.
"It's all we have of him," said Tarlia. "A birth certificate would be so much more official and permanent."
"This is not just about a piece of paper. It is recognition of someone very important, a symbol to say he was loved and a part of our family."
Related Internet Links
The BBC is not responsible for the content of external sites.