Senior Pakistan policeman shot dead in Quetta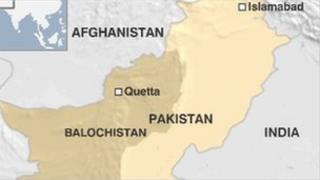 A senior police officer in the restive south-western Pakistani province of Balochistan has been shot dead by unidentified gunmen, officials say.
Shahnawaz Khan was gunned down outside his home in the Satellite Town area of Balochistan's capital, Quetta.
Balochistan is the centre of a nationalist insurgency and there is also an active Taliban presence in the region.
No group has said it carried out this attack.
Mr Khan was a senior figure in Balochistan's Crimes Investigation Department and investigated cases of terror and sectarian violence, according to reports.
The killing is the latest in a number of targeted attacks on security forces in the region.
Last week a bomb attack targeted Pakistan's Frontier Corps in Quetta, killing at least two people and in February 11 Pakistani soldiers died in an attack by separatist rebels elsewhere in the province.