Hopes fade for dozens missing in Nepal floods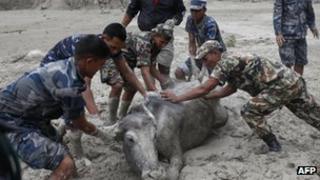 At least 21 people have been killed and 44 are still missing in severe flooding after a river near Nepal's Mount Annapurna burst its banks.
A police official told the BBC that the prospects of finding those still missing were now almost non-existent.
Among those missing are three Ukrainian tourists who were trekking in the area.
Two villages were especially badly hit when water surged down the Seti river on Saturday because of a landslide.
Officials say that rocks, earth and other debris blocked the river and caused flash flooding.
The UN says that houses, temples and community buildings were completely swept away in the villages of Kharapani and Sardikhola when the floods struck.
Army and police rescuers with earth moving equipment were quick to reach the area, and their relief operation is now drawing to a close.
Correspondents say that while landslides and flooding are common in Nepal, the flash flooding in this case is a rare example of a landslide blocking a river and causing the two villages to be swept away.
The floodwaters also swept into the city of Pokhara, where several people were swept away along with their houses and livestock.
May is the end of the trekking season, but before the monsoon.