Sixteen dead in 'worst' Kazakhstan road accident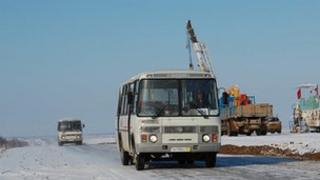 Sixteen people have been killed in a road accident in the central Karaganda region of Kazakhstan, police say.
It happened when an eight-seater mini bus carrying migrant workers from neighbouring Kyrgyzstan to Russia collided with a truck.
A full list of the victims has been published and the Kyrgyz authorities say that a baby and two young children were among the dead.
The cause of the accident, the worst in Kazakhstan for years, is not yet clear.
The BBC's Johannes Dell says that roads in the country are often in a poor condition, tempting drivers to use the wrong lane to avoid stretches of pot-holes.
Our correspondent say that there is big business in the transport of labour migrants from Kyrgyzstan, Tajikistan or Uzbekistan to Russia, with some operators running fleets of mini buses to cope with demand.
There has also been a big increase in heavy goods traffic bringing imports from China to Central Asian markets, adding to the dangers on long distance roads.
All of the victims in Tuesday's crash came from the southern Kyrgyz region of Jalalabad, most from a single village.
An investigation into the accident is under way, but police say that the minibus carried too many passengers.
The news agency Interfax Kazakhstan reported that the vehicle was stopped earlier on its journey when police ordered extra passengers to get off.
But the driver picked them up again further along the route.
The Kazakh authorities are running an ambitious road building programme, aiming to create a new silk road connecting Europe with China, but progress is slow in a country as big as the whole of western Europe.