'No progress' on China dissident Chen Guangcheng's passport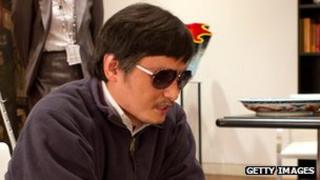 The blind Chinese dissident who escaped from house arrest and hid in the US embassy has said there is no progress on his passport application.
When the dissident, Chen Guangcheng, left the embassy China promised him he could apply to study abroad.
But more than a week later Mr Chen told the BBC there was no movement.
He said no Chinese officials had visited him in recent days, there had been no forms to fill in and no photograph had been taken.
The agreement that Mr Chen would be able to study in the US provided a way of diffusing the diplomatic spat caused by the incident.
He was offered a place to study law at New York University and the US formalities appear to have been completed.
Mr Chen spoke to the BBC from the hospital where he is now confined, under Chinese guard.
"I haven't heard anything," he said, "Chinese authorities promised they would help, but I don't know if they will."
He added that no US diplomats have visited him in recent days either - although an embassy doctor and translator saw him a week ago.
He repeated concerns about the treatment of his family and accused officials in his home village of taking "crazy revenge" on them.
Mr Chen is still being treated in hospital for a leg injury he sustained during his escape.