Deadly blast hits Afghan market in Faryab province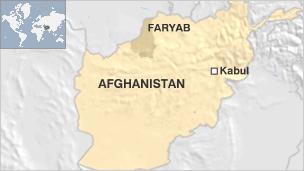 A bomb explosion at a market in northern Afghanistan has killed nine people, police say.
An official from a provincial council was among the dead in the Ghormuch district of Faryab province.
A local doctor told the BBC at least 10 people had been injured.
Last month at least 10 people were killed in Faryab when a suicide bomber struck a meeting of officials in the provincial capital.
Attacks in northern Afghanistan are far less common than in the south and east and Faryab province is considered to be relatively peaceful.
The bomb was remotely detonated, police told Reuters news agency.
At the time of the explosion, the market was busy and filled with shoppers.
No group has said it carried out the attack as yet, but Taliban attacks traditionally increase after a winter lull when bad weather restricts the movement of fighters.
On Sunday a Taliban official turned peace negotiator was shot dead in Kabul, dealing a blow to President Hamid Karzai's hopes of reconciliation moves with Taliban fighters.
Nato forces are set to hand over responsibility for security to Afghans by 2014.