Sri Lankan forces 'uncover huge haul of explosives'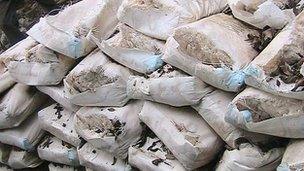 The security forces in Sri Lanka say they have found the largest stock of explosives since the end of the civil war three years ago.
They say 6,000kg (13,230lb) of explosives was discovered in a bunker used by the rebels in the north.
The security forces regularly unearth weapons and ammunition from the north, where the last and bloodiest battles of the 26-year civil war were fought.
Sri Lanka on Friday celebrates the third anniversary of end of the war.
Police say that they discovered the haul after receiving a tip-off.
The plastic-encased explosive, C4, were found near the town of Puthukudiyiruppu.
One defence analyst said he was sceptical about the reported finding, asking how such a quantity could have remained undetected for so long.
But another said he was sure it was genuine and believed the ammunition was found 6m (19.6ft) underground.
Experts say the Tamil Tigers, whose leadership was wiped out in the final army offensive in 2009, favoured C4 over explosives like TNT because it was more powerful.
The BBC's Charles Haviland in Colombo says weapons used by both sides during the war still have a tangible effect on northern Sri Lanka as internal refugees try to start their lives afresh in their home areas.
Occasionally children are injured - most recently on Sunday - or even killed.
The authorities say all main roads are now open and demining is proceeding well.
But the area of the latest discoveries still has landmines, which experts say were scattered randomly by the Tigers.
Last month a UN expert was reported to have said unexploded cluster bombs had been found, but the government denied having used such munitions.
Related Internet Links
The BBC is not responsible for the content of external sites.